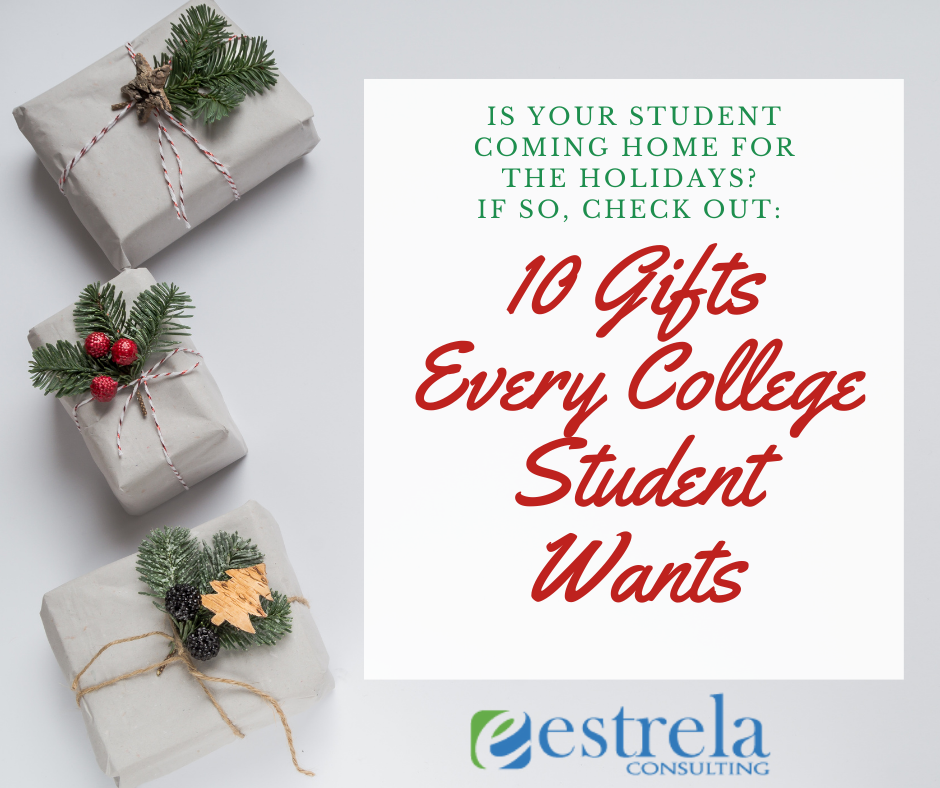 As the holiday season approaches and many students start to return home for an extended break, parents might be wondering what on Earth to get their students for the holidays. Here are ten items that nearly any college student will love, from practical to sentimental to fun!
1. Power Strip
Chances are, your student will have lots of devices at college that they may want to charge, from computers to printers to smartphones. And, unfortunately, most dorms have limited charging ports - especially if your student has a roommate! Enter: the power strip. Now your student can charge all of their electronics (and have a few ports open to share with others!) This strip from Target offers five outlets and the option to mount it on the wall for even greater convenience.

2. Record Player
Record players are a particularly neat way to share the gift of music with your college student: your student can display their taste with collectible vinyls, and playing music can become a unique social event! This Crosley turntable also offers students the ability to connect their phones to the built-in speakers, in case they want to listen to tunes they may not have on record yet.

3. LED Strip Lights
Here's a fun way to give your student's room a little color, whether they're returning to campus or attending class online: with LED strip lights, your students can light up their rooms in style. Most options come with a remote so that your student can even change the color of the lighting!

4. Coffee Maker
Whether it's coffee or tea, chances are your student has a preferred means of caffeination when school gets stressful. Help make hot drinks more accessible to your student by giving them a coffee maker/water heater for their room! Keurig's coffee machines are particularly practical, since your student can get a variety of K-Cup pods ranging from Starbucks coffee to hot apple cider!

5. Smartphone Printer
Chances are, your student will be capturing a lot of their college memories on their smartphone's camera! However, one cool way you can help them to make these memories more tangible is with a smartphone photo printer - with this simple device, your student can print out any photo they want to hang up on the wall or put in a scrapbook to share with family!

6. Dry-Erase Sticky Notes
Sticky notes are a handy item for a college student - from drafting essays to putting up reminders, they're useful in nearly any situation. However, using up that much paper for simple reminders can feel wasteful. With dry-erase sticky notes, your students can post reminders on nearly any smooth surface - and reuse them without worrying about creating waste!

7. Under-Bed Storage Bag
Most colleges dorms have limited space - if your student likes to keep a lot on-hand, help them to keep their room organized with some under-bed storage containers! This box from The Container Store is functional, affordable, and good-looking - additionally, your student can get dividers to be even more organized!

8. Noise-Canceling Headphones
Whether your student is attending classes on Zoom at home or trying to work in a potentially noisy dorm room, chances are they could benefit from noise-canceling headphones. This option from Cowin Audio features Bluetooth connections and a built-in microphone for real convenience!

9. College Student Cookbook
Is your student looking to learn some cooking skills beyond instant ramen? Getting them a cookbook designed for college students can help them to explore cheap, efficient, and healthy cooking options that can be done from the comfort of their dorm room!

10. Printed Scrapbook
Do you want to share some of your student's childhood memories with them in an adorable way? Consider giving them a printed scrapbook. All you have to do is upload the photos you want to include to the website, and you can receive a custom-designed scrapbook that your student can keep with them for years to come!


Hopefully these tips will help you to get your student the perfect holiday gift!
---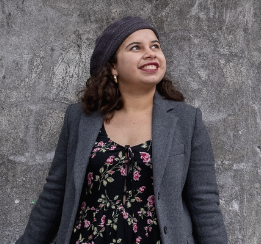 We are thrilled to announce a new Estrela column: "Jasmine's Take!" Jasmine Wheeler joins Estrela's team as a recent high school graduate, taking a gap year before joining Stanford's Class of 2025. Working in social media management and writing, she hopes to offer an insider perspective on what it's like to go through the college process. In her spare time, Jasmine enjoys watching films with her family and working on her writing projects.