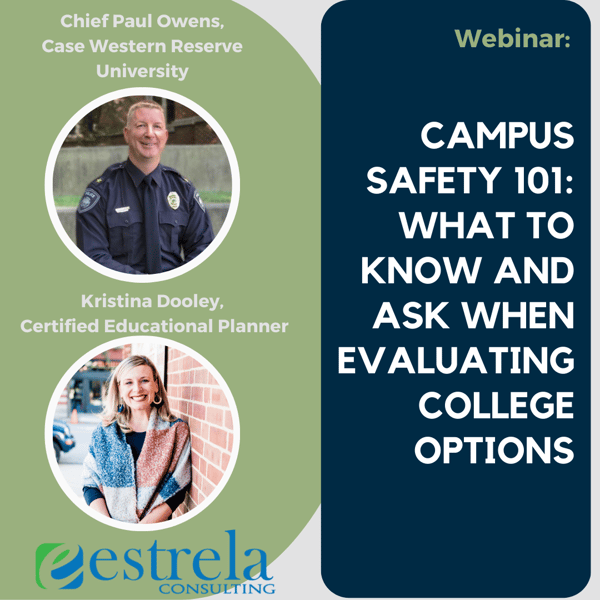 As you research college options - or make final decisions on where to enroll - do you know how to assess campus safety? We invited Paul Owens, Chief of Police and Deputy Executive Director of Public Safety at Case Western Reserve University to join us for a brief webinar on this timely topic. Chief Owens shared safety tips for students as they get ready for life on a college campus, and advice for parents on how they can stay up to date on campus security and safety from afar. We've summarized his very helpful information below!


8 Tips for Families Evaluating Campus Safety
Tip 1: Ask What Type of Security Staffing Exists
Not all campuses have the same types of security in place. During your visit you can ask if they have their own campus police department or a campus security office. Who handles emergency situations on campus? Campus security or local police? In addition, you can also inquire about whether or not the officers/guards on campus are armed.
Tip 2: Look for Blue Lights and Phones
Nearly all college campuses have installed Blue Light Systems which are just what it says: a series of poles that have security phones installed on them and feature bright blue lights on top for easy spotting on campus. Take note during your visits on where these are located throughout campus. Most schools will say that you should be able to see one from any point on campus.
Tip 3: Ask About IACLEA (International Association of Campus Law Enforcement Administrators) Accreditation
Schools that have the IACLEA accreditation go through a series of checks and balances to ensure that their equipment is functioning (such as the phones/blue lights) and that their campus safety department is meeting certain standards. In addition, their officers receive significant training and go through re-accreditation every 3 years.
Tip 4: Look for Security Cameras and Ask Who Monitors Them
As you are touring a campus, be sure to take note of the number and location of security cameras placed around campus. In addition, you should ask if the camera feeds are monitored in real time and by who.
Tip 5: Ask Who Has Access to Buildings
Most college students will receive a key card or key fob to access buildings on their campus. It's important to ask who else has access to areas such as residence halls, academic buildings, the fitness center, or the library. for example, are these spaces open to members of the community or the general public? Be sure to also inquire about a master lock down option which allows campus safety to lock the doors to all buildings remotely if there is a security situation on campus.
Tip 6: Ask About Alert Systems for Students and Parents
In the case of an emergency on campus you'll want to be sure you're receiving timely, accurate information. The best resource for this is an emergency notification app for your specific college or university. Many campuses now automatically register enrolled students on their security app but most parents will need to opt in to receive updates. In addition, it's important to ask how often updates are sent out via this alert system in the event of an emergency. Every 15 minutes? Thirty? Are alerts also shared via social media? Which platforms?
Tip 7: Ask About Safe Ride or Ride Share Options
Many campuses will offer the option for students to request a free ride from one part of campus or the surrounding community back to their residence hall or another location on campus. Some schools utilize their campus safety offices for this, while others partner with ride share services such as Lyft or Uber.
Tip 8: Inquire About Locks, Self Defense Courses and Safe Housing Advice
This is a catch-all tip to show that the Campus Safety office has lots of answers to things you may not have thought about prior to your visit! Many campus safety offices offer complimentary (or inexpensive) bike and computer locks for student use. In addition, some officers will teach free self defense courses to students and staff on campus. Finally, when students are trying to determine where to reside off campus as upperclassmen, the Campus Safety office is a good place to get recommendations as they know the most about crime in various parts of the surrounding community.
Bonus Tip: Did you know you can easily access campus safety and security reports for colleges and universities across the U.S.? It's simple! By searching the name of the college plus the term "Clery Act" you will find up to date campus crime and safety reports. In addition, the U.S. Department of Education Campus Safety and Security site allows you to create comparison reports of up to 4 colleges at a time.
Interested in hearing more? Check out the full webinar below!