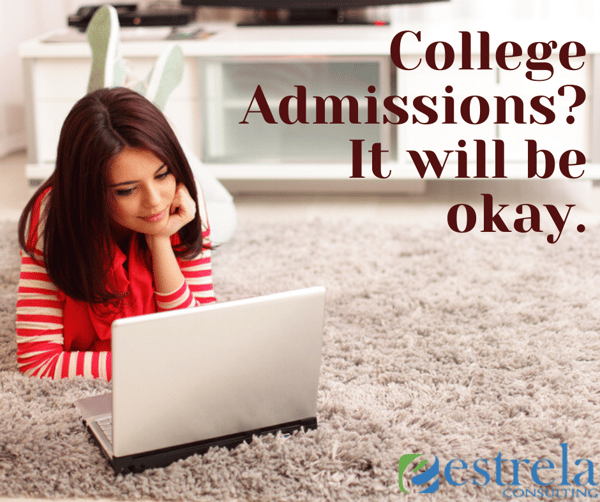 We've been here before, I think as I sit down to reflect on the current state of the world. Okay, maybe we've not been exactly here before - hunkered down, sheltering in place, fearful of the invisible coronavirus - but we have faced adversity before. Maybe not all together as a collective global society, but certainly in small samples sizes.
Maria. Harvey. Sandy. Ike. Katrina.
Hurricanes. Each one shut down local businesses and schools whilst devastating entire neighborhoods. In some places entire school years were cancelled (sound familiar?) and the only learning that occurred was how to prevail in the face of adversity. At the time of this writing, I have been a college counselor in some capacity for 12 years. Each time a natural disaster or act of devastation occurs, I witness countless people and organizations (including colleges and universities) practice flexibility.
In 2012, during the aftermath of Hurricane Sandy, nearly every college admissions website displayed a banner with the same common assurance, "If you have been impacted by Hurricane Sandy, please notify your admission counselor for flexibility and guidance."
Now it's COVID-19. And we've all been impacted in some way.
For the students we work with at Estrela, I can promise you that flexibility surrounding college admissions will be a theme in the coming months. We have already seen evidence that colleges and universities are pushing back their deposit deadlines for admitted students. These same schools have moved many Admitted Student events to a virtual platform. Campus tours and admissions information sessions delivered through webinars are growing in popularity. Some highly selective institutions have waived ACT/SAT and Subject Test requirements for current high school juniors. All of these actions - and we are only one week into this international challenge.
I can also promise you that your graduating class's situation is shared by every senior and every junior around the world. You are not alone in this trial. This challenge. Your collective disappointments, frustrations, questions, fears, and added hours of sleep are shared by your peers across continents. I can guarantee we will continue to see cascading change and evidence of flexibility among institutions of higher learning in the coming weeks and months ahead. Not to quote High School Musical, but "We're all in this together," which means that as colleges figure out how to flex and bend, so must we. Our flexibility will allow us to minimize the adversity we face in the future.
Remember:
You are not alone.
Everyone is figuring this out together.
There is some precedent for colleges and universities to support students through flexible admissions practices during exceptional times.
It will be okay.