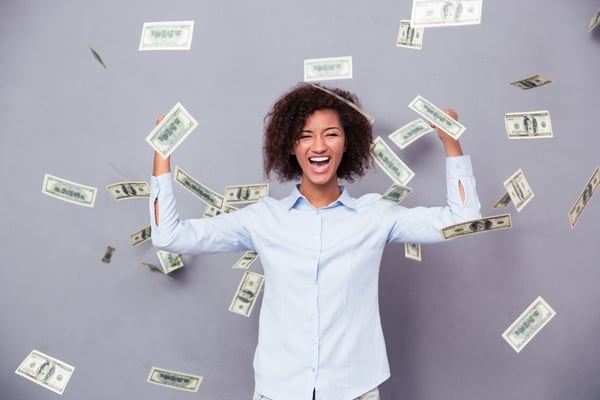 While students are knee-deep in the exciting college application process, it's important not to forget about the other piece to the puzzle - financial aid! The two largest forms of financial aid open October 1st, and we've got everything you need to know in order to successfully begin the process.
What is the FAFSA?
FAFSA stands for Free Application for Federal Student Aid. The FAFSA combines all of your relevant financial and household information into a formula that determines what types of government aid may be able to help you pay for college. Immediately upon completion of the FAFSA, the student receives a Student Aid Report (SAR) that explains any financial aid that is received, as well as an Expected Family Contribution (EFC). The EFC is an important number that may be asked on scholarship applications, and is used to determine eligibility for free state and federal aid. The most prominent types of aid received from the FAFSA are:
The Pell Grant
The Pell Grant is based almost exclusively on income, and is designed to lower the cost of tuition for low-to-middle income families. Pell Grant amounts are set every summer, and are currently around $6,000 per year. Students will receive varying amounts depending on the size of their EFC, but is typically for families whose EFC is below $6,000. The Pell Grant is free money, and does not have to be repaid, but must be reapplied for each year with a new FAFSA.
Stafford Loans
Any student who completes the FAFSA is automatically eligible for student, or Stafford, loans. Like the Pell Grant, loan maximums and interest rates are set every year, but generally begin around $5,000 per year with a 5% interest rate. Stafford Loans are divided into two categories - subsidized and unsubsidized. Subsidized Stafford Loans have the same interest rate, but while the student maintains enrollment in school, does not accrue interest for the student. Unsubsidized Stafford Loans function like a regular loan, with interest that accrues right away. While all students qualify for Stafford Loans, the amount in each category is determined by the individual schools. Both loans do not require repayment until 6 months after the student is no longer enrolled. Students always have the option to decline the use of student loans - completing the FAFSA does not automatically enroll anyone in the federal loan program.
What do I need for the FAFSA?
Over the years of completing FAFSAs with families, I have found that the hardest part is gathering all the documents required to submit. Once you have all the information you need, actually completing it is relatively easy! The most important documents are your federal taxes from the prior year- best in the form of W2s, 1040s, 1098s, and/or 1099s. Many of the questions pulls directly from these statements. FAFSA also allows you to link directly to your taxes through the IRS Data Retrieval Tool. This is the easiest way to ensure you are entering the right information in the right places. The FAFSA also takes into account any available cash that can be used to pay for college, from everyday checking and savings accounts to 529s, stocks and bonds, and mutual funds. Make sure you have the balances of all of these accounts ready to go. Any mortgage or retirement accounts are not included.
What is the CSS Profile?
Outside of federal financial aid, some schools offer money directly from institutional resources. The CSS Profile, created and managed by The College Board, collects all the same information as the FAFSA, plus additional data such as debt and detailed income breakdowns. The documents you reference must also be uploaded into the secure Institutional Document database, or IDOC, and may be distributed to the individual schools you select. Unlike the FAFSA, not every school requires the CSS Profile. Always research if one of your top choices is a CSS Profile recipient before beginning the process! There is a $25 application fee, plus $16 per college that you would like to receive your results. Since the CSS Profile deals with institutional funds, there is no automatic aid report upon submission. Money received is at the discretion of each school individually.
Changes, Deadlines, and Special Circumstances
Just like college applications, every school has a different priority deadline for financial aid. The earlier the FAFSA and CSS Profile are completed, the better! If anything changes along the way, you will have more time to make adjustments. After receiving your SAR or CSS results, you have the ability to make changes to your applications and re-submit information to the schools. Examples of changes include adding or removing an institutional recipient (FAFSA allows up to 10 schools) or adjusting incorrectly submitted information.
Though never hoped for or expected, there is a process if your family encounters a significant loss or change of income, or change in family status. This occurs at the institutional level, not through the federal government. Essentially, schools will individually recalculate your aid eligibility and make adjustments where they are able. You should be prepared to give proof for the change, either unemployment documentation or loss of a family member. Contact the financial aid office at your institution for information on their specific required documents.
I don't think I'm eligible for federal aid. Should I still file?
Yes! If this is your first time through the college process, try not to rule out any options. Many scholarship programs require submission of the FAFSA as part of the application process, regardless of if financial need is part of their criteria. Financial aid is a yearly application process, so if after year one you didn't use any federal aid or scholarships that required it, feel free to pass over the October 1st release date!