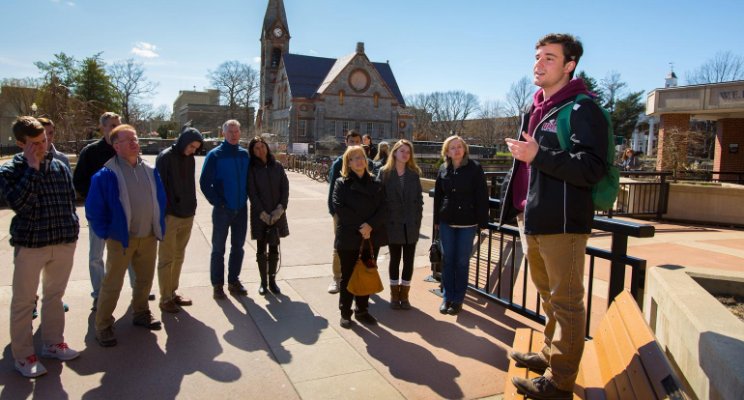 It's only February but most high school students have already begun counting the days until their spring break. Even as snow continues to fall in many parts of the U.S., students are dreaming of beaches and movies and mall trips…a two-week respite before blazing through the final months of the school year.
For high school sophomores and juniors, this forthcoming break from school actually provides a great opportunity to begin (or continue!) visiting college and university campuses. Even better is that visits done over spring break generally provide a more realistic view of campus life than summer visits, when many campuses are empty, as the timing of most high school spring breaks are before those of universities. In fact, many colleges will offer special visit programs geared towards sophomores and juniors during this time of year.
While many students feel they should have a concrete list of schools to which they'll apply BEFORE visiting campuses, there are good reasons to be wary of selecting colleges sight-unseen. Have you ever seen a university brochure with photos taken during a New England snowstorm? How about a college website featuring homesick students eating cereal for dinner? Of course not. Will you see this scenario played out during your campus visits? Absolutely. Visits are the real deal. No Photoshop and no staged scenes. Just reality.
So, how can students make their Spring Break college visits more than meh?
Visit a variety of colleges.
It's important to remember that a visit to a college does not commit you to applying to that school. These initial visits are an ideal way to check out schools without any pressure, and to give you an idea of what different campus environments may offer. A large, urban university will vary greatly from a small, rural campus. It's important to get a feel for what environment best suits you and where you feel most comfortable.
Campus visits can also help address any preconceived notions you may have about certain sizes and types of colleges. For example, you might feel like you'd be happy in a large, public research university, but soon realize that a small, private, liberal arts college is better suited for you. Students should visit different types of institutions so they can discover early where they really do feel most comfortable.
Pace yourself. It's not a sprint.
When scheduling visits over your spring break remember that most schools will offer set group tour times that are often coupled with an information session or an interview opportunity. This means you should plan to spend at least two to three hours per visit. Don't assume you can easily squeeze more than two college visits into a single day, even if the schools are in the same city or general area. You'll want to allot extra time for traffic, parking delays, meals and bookstore visits.
Also, keep in mind that weekend visits are generally limited to Saturday mornings and practically non-existent on Sundays. This actually provides an opportunity for you to have some down time to explore the areas in which the colleges you are visiting are located and see what life is like for students outside the school day. Do they have a "downtown" that students frequent? Are there stores nearby? How are students getting to/from the town or city? Will you need a car, or would a bike suffice? Does the surrounding area feel safe?
Take advantage of on-campus interviews.
Though many schools don't require on-campus interviews, it's best to take advantage of this opportunity while you are on those campuses which do. Remember: interviews are two-way. It makes sense that both students and parents have questions about what will surely be a huge investment on the part of the family. An easy rule of thumb when preparing questions for the information session or interview is to ask those things which can't be found on the institution's website.
Take lots of pics.
During your visit make sure to take photos…lots of them. Visual triggers, as opposed to written notes about the number of volumes in the library, are much better for you when you return home and are trying to differentiate between schools. Take photos of unique items on campus, not just exteriors of buildings. Here's a tip: photograph flyers on billboards around campus as a reminder of what social offerings are available at the school.
Remember to say "thank you."
After your visit it's important for students to follow up with a "thank you" to those individuals who assisted them during their time on campus including tour guides, admission counselors, and faculty members. In this age of technology it's appropriate to do this via email or a social networking site. In fact, why not send a Tweet, tag the school in one of your photos on Instagram, or post something on the school's Facebook wall about your experience? This is helpful to other students who may be looking at the same school and a great way to maintain active communication channels with the university. However, if you want to make an even bigger impression, send a handwritten note. The lost art of letter writing means you have the opportunity to stand out with a quick thank you card.
It's important to remember that the undergraduate college search process should ideally occur just once in your life. Thoughtful planning and thorough campus visits will aid you in ultimately selecting the most appropriate school and give you the opportunity to spread out what can become an overwhelming process. Taking advantage of time off from school during breaks to visit campuses can help you avoid applying to schools that aren't right for you, and give you time later to focus on those schools that work. Happy travels!
---
Interesting in learning more about our services and how we can help your family? Request your free college planning consultation below: