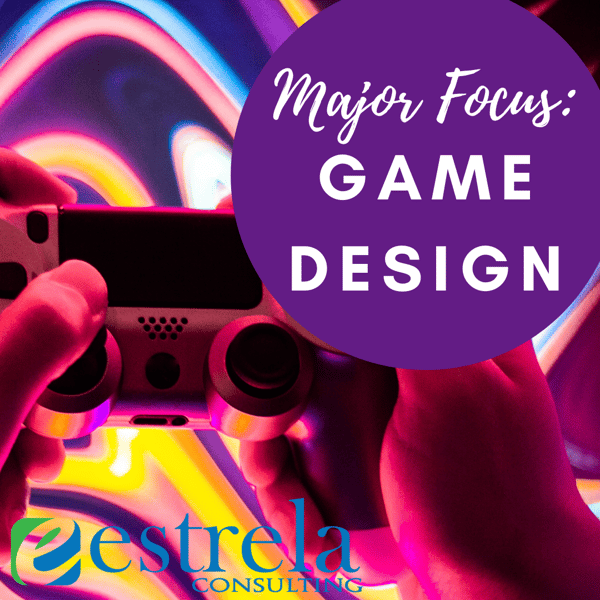 When a student tells me that they spend their free time playing video games, the panic from parents is almost palpable. They nudge their teenager, reminding them about their involvement in student council, their volunteer experience, or whatever else may feel like a more appropriate activity to highlight on a college application. They may be surprised to learn that video games have become extremely relevant on college campuses. Students are playing for varsity esports teams and at schools like Arcadia University, some are earning scholarships of $25,000 to do so. Colleges are building esports buildings to attract students (the University of Akron boasts three separate gaming facilities on campus). And for those students whose passion for gaming goes beyond simply playing video games, there is an exciting and still relatively new major to explore: Game Design.
Industry Outlook
The modern video game market looks very different than when I was in high school in the early 2000's, losing Mario Kart races to my younger brother. What was once a niche market has exploded into a $180 billion dollar industry. Video gaming opportunities have transcended the traditional gaming consoles and computers, and are now available to anyone with a smartphone or tablet. While once considered primarily a source of entertainment, video games are now used to teach complex skills. Games and virtual simulations serve as forms of experiential learning for teaching technical skills from heart surgery to automotive repair. All of this growth translates into career opportunities for aspiring game developers. The median salary for video game designers is $77,700, according to the US Bureau of Labor Statistics. If you want to work in the gaming industry but design is not the right fit, there are many other roles supporting video game development such as multimedia artists, video game testers, music composers, developers, programmers, writers, producers and professional gamers.
Game Design Curriculum
What will you learn as a Game Design major? According to the Princeton Review, Game Design programs focus on coursework in three areas: art and design, technology and business. Art courses focus on animation, character and level design, creative writing, visual storytelling and storyboarding. Technology courses focus on programming, sound production and artificial intelligence. Business courses may include marketing and project management, allowing students to understand the entire process from the initial concept to market release. While many universities offer a full Bachelor's degree program in Game Design, many also offer it as a minor or as a concentration to a Computer Science or similar degree.
High School Preparation
How can you prepare for a major in Game Design? To start, play video games - a lot of them! You should be well-versed in different types of games, and have a sense of what you like and dislike. In school, you will want to pay close attention in your math and computer science courses to prepare for college-level programming. Creative writing, art and graphic design courses will provide preparation for script writing, story development, and animation.
Programs on Our Radar
University of Southern California

. Through a collaboration between the School of Cinematic Arts Interactive Media & Games Division and the School of Engineering's Department of Computer Science, USC offers a B.A. in Interactive Entertainment and B.S. in Computer Science (Games). This program is consistently ranked among the best in the US.
Shawnee State University

. Students are often unfamiliar with this public university in Portsmouth, OH, but it is consistently ranked among the top ten game design programs in the country. It also offers an excellent program at a great value, including opportunities for many out-of-state students to receive in-state tuition.



Columbia College

: Students in the Game Design major choose from two concentrations: Game Development and Sound Design. All seniors complete the Game Studio Capstone, a group project which mirrors the gaming industry production model and results in a playable game designed by each team.