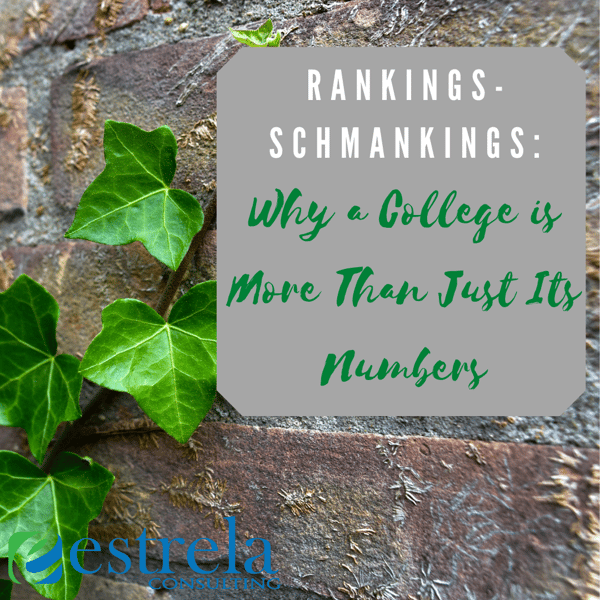 US News. The Wall Street Journal. Princeton Review. Each tells their own story of who is #1 for business, where you can find the healthiest campus food, and what student body has the best student section for college athletics. What if a school exists on one list, but not the other - is it still a great school? Is choosing a college really as simple as applying to the top programs featured in that year's edition? Which list will tell me exactly what I am supposed to do so I can maximize my academic success and extracurricular engagement in college?!

YES!
NO!
AND NONE OF THEM!
There are a slew of organizations that dutifully create lists upon lists in order to sort through the thousands of colleges and universities across the country in order to define the best of the best. And though their efforts are not entirely in vain, they aren't the only factor that you should consider either. Here are several reasons why:
Rankings are really just an arms race for colleges
This may sound harsh, but it's true. After all, who doesn't want to make a claim to fame about their campus when they are featured on a hot top 10 list (and maybe their rival campus is not)? Without proper context, marketing departments can be very quick to use (and encourage pursuit of) the latest ranking to quantify the great strides a college or university is making.
They do not take into account the student perspective
A graduation rate doesn't tell you the full story of how students complete their degrees at a college. Neither do earnings outcomes or average debt owed after graduation. Numbers tell you just that - a number. Did students go on to earn high salaries after graduation because they had industry connections, chose to work in high-demand fields, or were truly high performers? Be careful not to superimpose an unknown student perspective onto what you think a number might mean.
What about fit?
Yes, FIT! I'm so glad you asked. Finding a campus with good fit is one of the most important reasons for choosing a college. With 5,300+ colleges and universities in the United States alone, there is a college for everyone. Students are uniquely successful at a wide variety of institutions for very different reasons. Rankings provide a very broad picture of campuses. It is impossible for organizations to accurately and holistically capture what truly may be the best campus for a single individual.
Are statistics important? Absolutely! Should I still use the lists? Of course! Rankings are a great way to compare various aspects of a college, and can even be used to generate a list or two of schools to consider. But like many search tools and resources, they are incomplete by themselves. They don't always tell the full story, or how it relates to you.
---------
BONUS: One of our favorite authors, Malcolm Gladwell, recently recorded a set of episodes on his "Revisionist History" podcast that dive into the how and why of rankings. We found the information in both to be incredibly interesting and thought we'd share them with our readers. Click below to check them out for yourself: