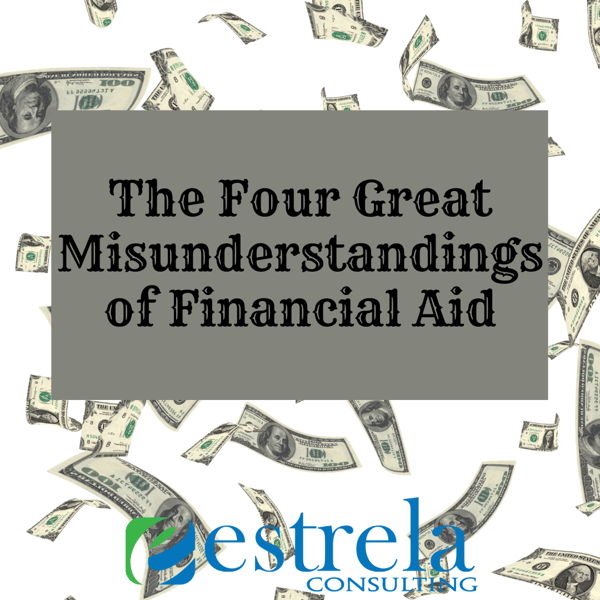 Like Severus Snape from the Harry Potter series, Elphaba from Wicked, or Boo Radley from To Kill a Mockingbird, Financial Aid features as the most commonly misunderstood character of the college application process. Why? I believe it is largely due to the way the term, "financial aid" is thrown around loosely when discussing college costs.
Some students misinterpret it as "free" money in the form of scholarships. Others think of it as loans and grants. All of these definitions are correct, but not entirely. Below we'll cover financial aid's four great misunderstandings – complete with some helpful links and resources.
Misunderstanding #1: I'll just use financial aid to help me pay for college.
Yes. But the TYPES of financial aid a student receives can vary! Financial aid is any grant or scholarship, loan, or paid employment offered to help a student meet his/her college expenses (New York State Financial Aid Administrators Association).
Did you catch that? Loan.
Financial aid is the package, the box, or the envelope. But the contents can range from some aid in the form of scholarships (doesn't need paid back!) and grants (also doesn't need to be paid back!) to loans, which definitely require pay back.
Pay close attention to the

TYPES

of financial aid a school awards you!
Misunderstanding #2:

I won't qualify for financial aid, so I don't need to fill out the FAFSA (Free Application for Federal Student Aid.
Quick aside: The FAFSA is the application required to apply for federal student aid.
And we're back…Remember! Financial aid comes from a variety of sources – federal and state agencies, colleges, local organizations, foundations, corporations (New York State Financial Aid Administrators Association). Always. Fill. Out. The. FAFSA. Why?
There are some colleges/universities and scholarship organizations which require the FAFSA to even consider a student for scholarships!


IF you plan to use federal loans (the best type of student loans), or at least, want the

option

to use federal loans to pay for college – you HAVE to file a FAFSA to be eligible for the

UNsubsidized federal loan program.
Misunderstanding #3:

There's no way of knowing how much financial aid I'll get.
Sort of: But there are ways to get a ballpark idea. First, check out the College Navigator, run by the National Center for Education Statistics (NCES). In the search bar, type in the name of a college/university. Then, locate the "Net Price" dropdown bar.
This will give you an idea of the average Net Price (what most students pay out-of-pocket) at that particular institution. Net Price is an estimate of the actual cost you and your family will pay in a year to cover education expenses at a particular college. This is NOT the sticker price. Here's a math equation to demonstrate:
Net Price = Cost of Attendance (tuition + fees + room & board) – scholarships, loans, grants, etc.
Sites like the College Navigator give you a general overview of the average "out-of-pocket" net cost for most families at a particular school.
Second, go to CollegeData.com (you may need to create an account – it's FREE). Enter the name of a college/university in the search bar. Click on "Financials" in the top toolbar. This page is a goldmine!
You can find information on the percentage of students who receive merit aid (scholarships for being awesome at something) and the average amount of a merit aid award – at EACH particular school on your list. In other words, you can give yourself an estimate of how much in scholarships you might get at every school to which you apply.
Misunderstanding #4:

I should apply for a bunch of private scholarships.
Yes! and…No. First be certain you have exhausted all federal and state scholarships options as well as scholarships from the college/university first! While you won't qualify for every scholarship at your prospective schools, a majority of merit scholarships can (and do!) come from the schools themselves…especially if you are an academically competitive candidate.
Next, pay special attention to private scholarships available locally from foundations, clubs (Lion's Club, Rotary, and Kiwanis), religious organizations, places of parental employment, etc. Local or regional scholarships will have smaller applicant pools – thus, your odds of receiving scholarships from them will be greater. However, the dollar amount will be lower (expect between $500-$1,000). On a national or state level scholarships are much more competitive (read: harder to come by).
There are a few amazing huge scholarships out there through organizations like Coca-Cola, Buick, AXA Equitable, Dr. Pepper, and Bank of America. Although the payoffs are incredible, the work to obtain them and the eligibility rules are not always realistic for all students. Therefore, I'm a huge believer in smaller, local scholarships that usually require one essay and a resume'.
If you are interested in casting a wider net, though (and willing to write essays!), check out Going Merry and JLV College Counseling. Both of these sites are free and promote a more organized, less overwhelming, national scholarship search experience. If you prefer tangible, book-based searching, The Ultimate Scholarship Book 2021 is a solid resource.
BONUS Misunderstanding #5:

Figuring out how to pay for college will just happen.
Nope. Unlike our friends (and foes) from Harry Potter's world and Elphaba's realm – there is no magic wand here. You must be proactive now with research, saving, and carefully crafting a list of colleges that fit your budget. Your future self will thank your present-day self.
***
This post originally appeared on the Libertas Wealth Management Group, Inc. blog as a follow-up to their podcast episode featuring Estrela's Amber Gilsdorf entitled: FREE Money for College & Picking the Right Career, College or University.