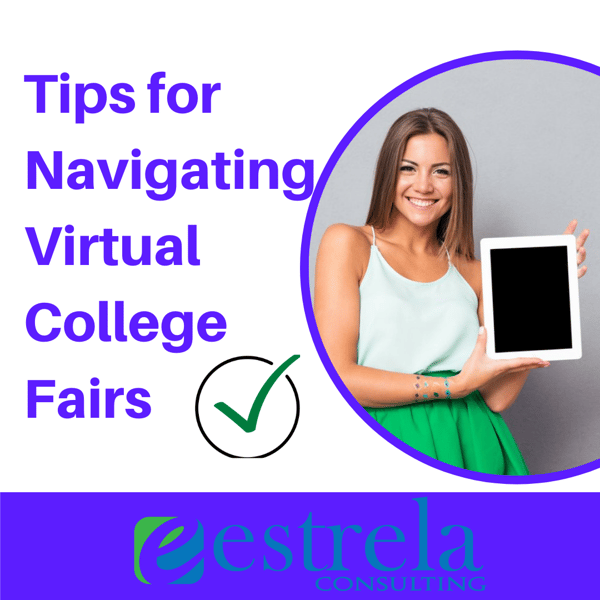 Every year, March ushers in the Spring season, college basketball madness, and this year (thanks to COVID) a generous selection of virtual college fairs. A college fair can be a great way to learn more about schools you are already considering and/or to explore schools you haven't even considered yet. Best of all, a college fair is an excellent way to demonstrate interest in the schools you may already have on your list. Below you will find information about when several upcoming virtual fairs occur and some very important tips for navigating this new(ish) way of researching colleges.

WHO
All secondary students grades 9-12 (and their parent/guardian) should consider attending. Rising juniors and seniors are particularly encouraged to make time in their schedule!
WHEN
Fairs organized by the National Association of College Admission Counseling (NACAC) & Ohio Association of College Admission Counseling (OACAC):
KNOW BEFORE YOU GO
Scout the Attending Colleges: Once you have registered for your fair, review the list of attending schools. This can be overwhelming. Start by narrowing your focus using the available filters. Location. Major. Size of student body.


Use the 4+4 Rule:

After narrowing your selections, pick four schools that are somewhat familiar to you. Then, select four additional schools about which you know nothing (aside from the fact that they fit your filter criteria).

You can, of course, attend many more than the 4+4, but this is a good rule to get you started.




Sign up! You'll see on the websites for each fair, there is a way to sign up for each college's individual information session. Definitely do this! The Information Session is a general overview of the school highlighting its programs of study and other distinguishing characteristics.


Consider the "Add-ons": Every college also has links to extra content for you to explore. Some schools have videos, pre-recorded interviews with students, and information about specific programs of study. Don't be shy about exploring each of your selected schools' extra content.


Mark Your Calendar:

Set a reminder or whatever you need to do to remember that you have these very important appointments coming up! Be sure to attend as the colleges will notice your interest.
WHEN YOU GO/LOGIN
Be prepared with questions that are most pertinent to you! Here are some good ones to consider:
Is there something in particular that your admissions readers look for when evaluating applications?
What kind of student would not be a good fit for your school?
What is unique about your school's [insert major of interest] department?
Do you admit students based on which major they have chosen?
Are there certain programs that are more competitive than others for admission?
What do students do on weekends?
What do you enjoy most about the city/town/area where the school is?
What kind of support services are available to students [academic, mental health, career etc.]?
How common is it for students to receive financial aid or scholarships?
Also, some to-dos while you're there...
⭐ Participate & take notes!
⭐ Be sure to collect/take note of the contact information for each admissions representative whose presentation you attend.
AFTERWARD