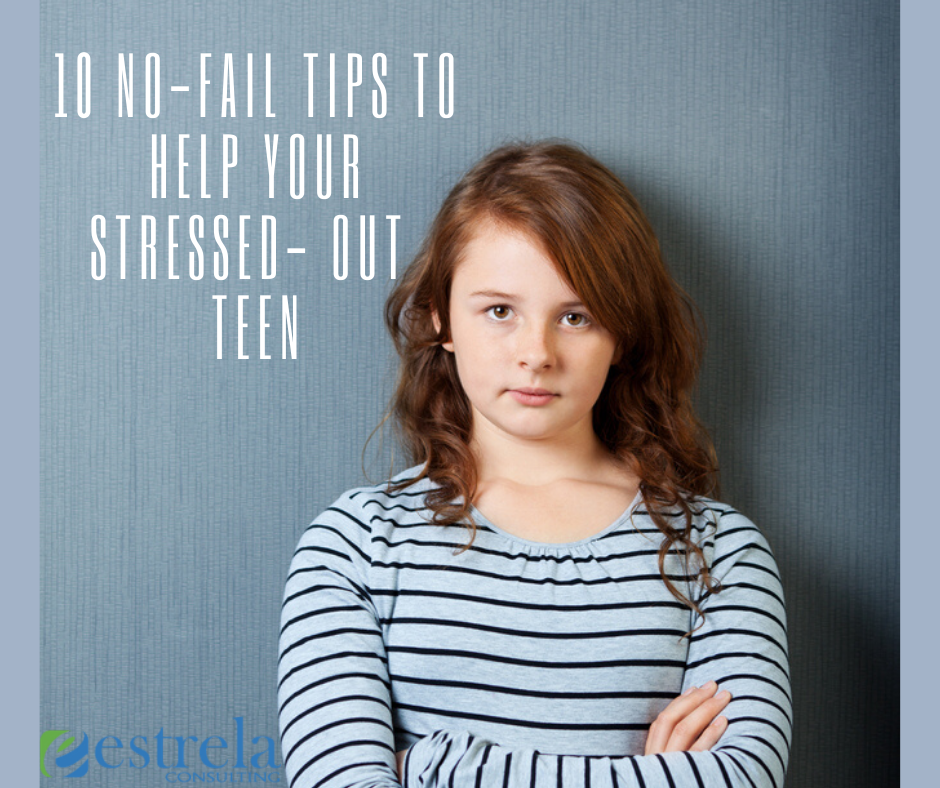 If your teen is having trouble adjusting to all of the change in the world right now, that's totally understandable! After all, they weren't prepared for this — none of us were. Your teen is probably sad that their activities have been cancelled, overwhelmed with their school work, and frustrated that they can't see their friends. Who wouldn't be extra stressed (and probably extra irritable)?
To help your teen handle all of these emotions, I've put together a list of my 10 favorite strategies I've been using recently with my teenage clients:
Practice mindfulness and gratitude. Taking a few minutes each day to talk about the good happening in the world or making a list of things you are grateful for can make a big difference. Have your teen start a gratitude journal or try to do one kind thing for another person each day.


Know your warning signs. One of my clients is an honors student who has never struggled academically before. Switching to online school has been tough for her and she's recently fallen behind in her school work. She's noticed that when she starts to feel overwhelmed, she begins to think of herself as lazy (not true!), stops communicating with her teachers, and puts off her work until the last minute. These are now the signs she looks out for to cue her in that she needs to ask for help. Make sure your teen knows their own warning signs.


Figure out what type of schedule works best. At first, online class was probably a welcome change for your teen. However, creating a schedule and actually sticking to it can be difficult. For some teens, planning out specific times to work on each class works well. For others, that type of schedule can be too rigid. One of my clients prefers to make a "to do" list each day, rather than following a specific schedule. Keep changing up the way you approach your work until you find the method that works best for you. Click here to see the schedule I created for my teens that had 118 shares on Facebook.


Design a study space. Studies have shown that if you designate one room or area as your study space, over time your brain will catch on and know that it's supposed to study when you're there. Studying can be stressful, so it's best to do it in an area with colors, lighting, and decorations that calm you and make you feel productive. Click here to download my step by step process to create a dream study space for your teen.


Take care of yourself physically and emotionally. Get outside and move your body every single day. Even if the weather isn't great, the fresh air and the movement will do your body (and your mind) some good. Self care is so important. One of my clients is using the Headspace App each morning to do a 10 minute meditation. Another is doing Yoga With Adrienne (free on YouTube) in the evenings to help her relax before bed. We've added these activities to their daily schedule to make sure they become a part of their routine.


Keep in touch. It can be so easy to feel lonely during quarantine. Making an effort to talk to friends, family, and teachers will ensure that your teen continues to stay connected with others. Click here to read our article in Parents Magazine about helping your teen have good relationships with their teachers (even during a health crisis). Be sure to explore Google Hangouts, Houseparty, and Zoom meetings for ways to meet up virtually. You can also get creative with planning some safe in-person meet ups. One of my high school seniors arranged a meet up in a parking lot where everyone brought a lawn chair and sat six feet away to socialize.


Plan for the summer now. It's hard to know what this summer will look like. We're all hoping for camps, family barbecues, and time at the pool...but it's possible that might not happen. Have a conversation about what your teen can do this summer to have fun and be productive. If your teen is applying to college in the next few years, you will want to make sure they are involved in activities that enhance their application rather than taking this summer "off". Consider taking some virtual campus tours, looking for online volunteer opportunities, or taking college level courses. Click here to read my blog post on activities that look good on a college application.


Focus on what you can control. If your teen only focuses on the things that are out of their control, it is possible that they will feel helpless, anxious, and/or angry. One of my favorite activities is to have my clients draw a Venn diagram to help them distinguish between the things that are inside of their control and things that are outside of their control. For example, school being shut down is out of their control, but how they structure their time is within their control. Not being able to participate in extracurriculars is outside of their control, but whether or not they choose to be active is within their control.


Minimize your distractions. When you're doing your school work at home, it can be tempting to stay in your pajamas all day and put off working until late at night. The lack of structure and routine that comes with online learning can make it difficult to get work done and resist the temptation to procrastinate. Click here to get my most effective tips for helping your teen stop procrastinating.


Use your free time wisely.

Your teen likely has a lot of extra free time right now.There are many ways that they can use this to their advantage. Now is a great time to pick up a new hobby, start a volunteer project, or get into a consistent exercise routine. If your teen is college bound, they can begin working on college applications or essays, tour a college campus virtually, or look through the majors and courses offered at various campuses.
Natalie Borrell is a Certified Academic Life Coach and Founder of Life Success for Teens. Natalie has more than ten years of experience working as a school psychologist in a public high school. Her areas of expertise include working with students who have ADHD, executive functioning weaknesses, and other learning differences.