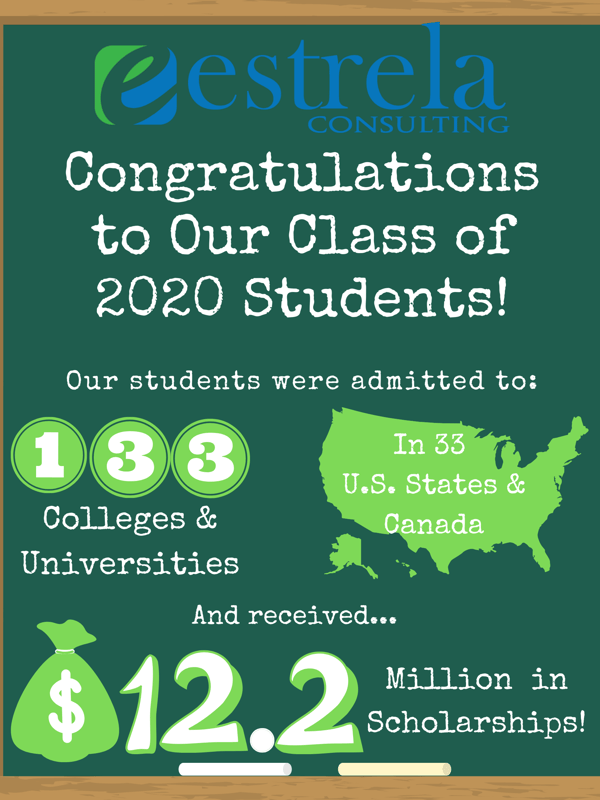 It's no question that the Class of 2020 is one that will be remembered throughout history. Their high school careers are ending in a way that no one could have ever predicted, and their college journeys are beginning on a path that is still being paved in the wake of COVID-19.
While there's no doubt that these seniors are experiencing a tremendous number of challenges, we have been inspired by the creativity, resilience and unity that is coming from the Class of 2020 (and their parents!). We are incredibly proud of our Estrela students and are thankful to have played a role in their college search processes. Our students this year have received offers of admission to 133 colleges and universities in 33 U.S. states and Canada. Even more impressive is the fact that this group of students has been awarded more than $12.2 MILLION in scholarships...and that number continues to grow!
On behalf of the entire Estrela College Planning Team, CONGRATULATIONS to the Class of 2020! We look forward to following your college journeys and hearing about what the future holds for you.
Estrela Class of 2020 College Acceptances
Adelphi University
Albion College
Allegheny College
American University
Appalachian State University
Baldwin Wallace University
Bellarmine University
Belmont University
Bentley University
Binghamton University
Boston College
Boston University
Bowling Green State University
Brandeis University
Brown University
Bucknell University
Butler University
Central Connecticut State University
Central Michigan University
Clark University
Clemson University
Colgate University
College of Charleston
College of Holy Cross
College of Wooster
Colorado State University
Columbia University
Connecticut College
Davidson College
Denison University
DePauw University
Dickinson College
Drexel University
Duke University
Duquesne University
Earlham College
Eastern Connecticut State University
Elon University
Emerson College
Emory University
Fordham University
Furman University
Gannon University
George Washington University
Georgetown University
Goucher College
Grand Valley State University
High Point University
Hope College
Indiana University
IUPUI
Ithaca College
James Madison University
John Carroll University
Juniata College
Kalamazoo College
Kent State University
Kenyon College
Lafayette College
Lake Forest College
Lawrence Technological University
Loyola Marymount University
Loyola University Chicago
Louisiana State University
Marist College
McGill University
Miami University - Oxford
Michigan State University
North Carolina State University
Northeastern University
Nova Southeastern University
Oberlin College
Occidental College
Ohio Northern University
The Ohio State University
The Ohio State University- Newark
Ohio University
Ohio Wesleyan University
Otterbein University
Pennsylvania State University
Purdue University
Queens University Charlotte
Rensselaer Polytechnic Institute
Rochester Institute of Technology
Roger Williams University
Rollins College
Rose-Hulman Institute Technology
Rutgers, The State University of New Jersey - Newark
Sacred Heart University
Seton Hall University
Skidmore College
Slippery Rock University
Stanford University
Stevens Institute of Technology
Suffolk University
Syracuse University
Tulane University
University of Akron
University of Alabama
University of Chicago
University of Cincinnati
University of Colorado - Boulder
University of Connecticut
University of Dayton
University of Delaware
University of Georgia
University of Kentucky
University of Louisville
University of Maine
University of Massachusetts
University of Miami
University of Michigan
University of Missouri - Kansas City
University of Mount Union
University of New Hampshire
University of North Carolina - Chapel Hill
University of Oklahoma
University of Pittsburgh
University of Redlands
University of Rhode Island
University of Richmond
University of South Carolina
University of Southern California
University of Washington - Seattle
The University of Tampa
University of Vermont
Virginia Tech
Washington and Lee University
Wayne State University
Western Michigan University
West Virginia University
Western New England University
Wittenberg University
(Click here for a full list of past Estrela acceptances.)