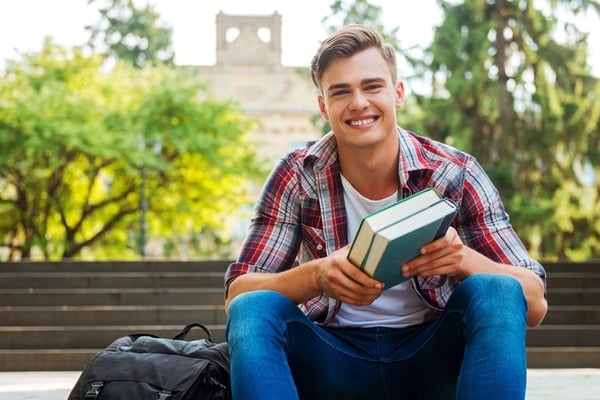 For those of you heading off to college in the fall: you've heeded so much advice in preparation for this moment. Studied for the SAT, earned good grades, participated in extracurricular activities…you're ready for this, right? Not so fast. We have just a little bit more wisdom to share with you as you make your most significant life transition to date. Read on, and don't worry. There won't be a quiz at the end that requires you to bubble in answers with a #2 pencil.
Go. To. Class.
This might seem obvious, but you'll be surprised at how quickly the temptation can set in to skip this part of the college experience. The freedom to choose how you spend your time – particularly after a late-night Netflix binge – will require some discipline on your part. College coursework moves fast, and missing even a single class can start a snowball effect that permanently puts you behind. Plus, it's awkward to ask a professor for help when you haven't been there. Be there.


Meet Your Professors
Along the same lines, make time to visit each of your professors during office hours at the beginning of the term. Making this connection early on will go a long way, especially if you end up needing some extra assistance later on. Professors set aside office hours for this very reason, and they are delighted when you take advantage of it.


Get Involved!
Every first-year student is new to this, so go out there and connect. Attend a student organization fair and sign up for anything that interests you. You can pare your selections down later after you've sampled a few meetings. When you head to the dining hall, poke your head into some rooms of your residence hall and invite others to tag along. Introduce yourself to the person sitting next to you in class. Sign up for Zumba at your campus recreation center. Making connections will help you find your tribe on campus and make the transition a little less lonely.


Homesickness Is Normal
Speaking of lonely, you will have times where you feel lonely and homesick. This is completely normal. And even if it seems like everyone around you is having a blast, they are going through it too. Acknowledge it, talk about it with someone you trust, and know that it will get better with time.


Ask For Help
But if it doesn't get better, there are resources to help you. Don't be afraid to seek them out. Sometimes a call home or to a friend will do the trick, but if you're finding yourself struggling, every campus has a system in place to support their students. You can start with your Resident Assistant or Resident Director, who are well-trained in guiding students through tough times. You can also seek help through your college's counseling center. Please ask for help.
After years of hard work, you earned a spot in college. Congratulations! Now go out and make the most of it.