More than 300 college admissions deans (and growing) have signed a statement about what they expect and value in the admission process during this time. Here is just a snippet of the "why":
"Without COVID-19, there is already plenty of anxiety churning for students preparing to apply to college. There's the anxiety around which courses and how many, which tests and how many, which activities and should they be broad or deep?" said E. Whitney Soule, senior vice president and dean of admissions and student aid at Bowdoin. "And all of those questions swirl around an anxious exercise of trying to estimate and maximize chances of admission. For many students, the interference of COVID-19 doesn't interrupt that anxiety circuit, it powers it. The point of this deans' statement is to explicitly state that we understand, that we already apply context to our review, and that we will apply flexibility to meet that context in application review. I hope that our written statement is reassuring and can reduce anxiety."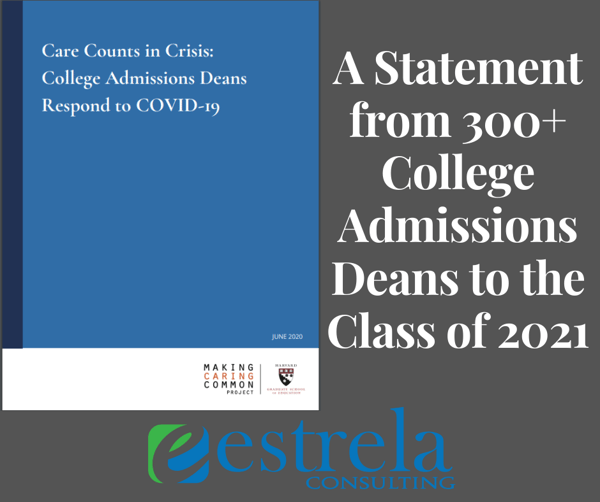 Here is a link to the actual statement...please take a few minutes to read through it. Our hope is that students and parents from the Class of 2021 keep these things in mind as they navigate the application season this fall. This will certainly be a different kind of application year but you should know that all students in this class are - and will be - experiencing very similar challenges and incredible uncertainty.
In the meantime, our Estrela team encourages students to focus on the first statement in this piece: Self Care. August, September and October will be busy times for seniors as they begin submitting applications. Today we hope you'll take a moment to breathe and enjoy your summer. As we tell our students: this is a marathon, not a sprint. Our Estrela team works throughout the summer months with students on small steps (essays, the Common App, resumes, etc.) to help alleviate a last-minute rush to get applications completed. If your family could benefit from some support along this complex journey, please reach out to arrange a complimentary consultation with one of our team members by clicking below. Our goal is to reduce the anxiety and stress that normally surrounds this process and are happy to support families who are seeking guidance along the way.