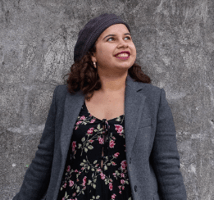 We are thrilled to announce a new Estrela column: "Jasmine's Take!" Jasmine Wheeler joins Estrela's team as a recent high school graduate, taking a gap year before joining Stanford's Class of 2025. Working in social media management and writing, she hopes to offer an insider perspective on what it's like to go through the college process. In her spare time, Jasmine enjoys watching films with her family and working on her writing projects.


---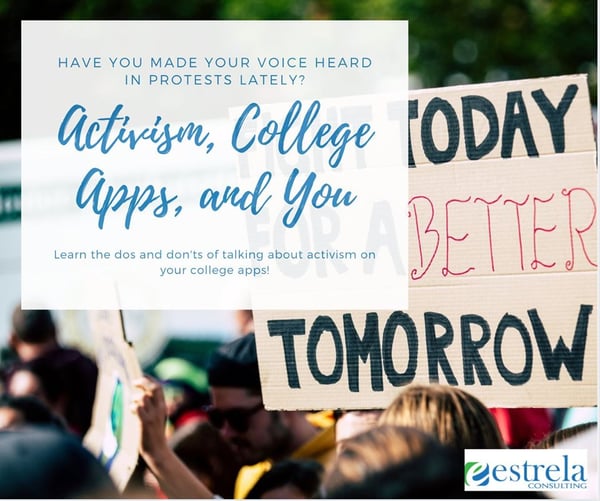 Ah, 2020. This seems to be the year of continuous change and crisis, and accompanying these issues is a wave in activism amongst members of Generation Z. From protesting racism to informing about climate change to calling for gun control, the latter half of the 2010s and the start of the 2020s has seen the development of a very politically aware generation of teenagers and young adults. This protesting composes a significant part of many young people's lives, so you might wonder how you can make this facet of your life known on your upcoming college applications. Whatever your issue(s) of activism focus may be, here's the breakdown of how to talk about your actions in applications:

DO: Be conscientious of what you call "activism" on your application!
Activism, undoubtedly, takes a lot of forms in today's society, especially with COVID-19 making it difficult to protest in-person without putting yourself or others in danger. From writing petitions to sending emails to taking the risk and physically marching, many teens are making their voices heard despite current limitations.
However, some types of protests are more impactful for college applications than others.
"Spreading awareness" is very important, but sharing tweets, informative Instagram posts, or even just a black square on your Instagram story likely won't impress a college admissions officer, so I wouldn't recommend listing such work on your application. While sharing information is important, it doesn't require much personal effort or commitment on your end to share someone else's content on your story.
Instead, here are some examples of activism that would warrant listing on your college application:
Making your own informative posts for you and others to share online!

Drafting letters and petitions addressed to figures of authority about issues you care about.

Physically protesting/marching with other activists to call for change.
The key here is doing work yourself. Colleges want to see that, if you claim to be an activist on your application, then you personally take action and invest time and energy into bringing these issues to the public consciousness.
DON'T: Use political protests as a way of getting "brownie points"!
One very important aspect of getting involved in activism is intention. Above all, if you get involved in protesting, you should genuinely care about the issue and reflect that care in your work. Don't use ongoing movements, such as Black Lives Matter or Everytown for Gun Safety, as a platform for you to make yourself look good. These are real issues that affect real lives, and it will not reflect well on you at all to capitalize on these movements as "trends" or a resume piece. In fact, such "activism" will probably end up hurting your college app!
DO: Research the institutions you're applying for before you write!
During the Parkland gun control protests of 2018, many students ended up facing detention, suspension, and worse consequences for walking out of classes to protest. When students had to indicate this disciplinary action on their applications, colleges responded very differently. Some institutions loved it, some hated it, and some felt ambivalent on the topic. If you've faced or anticipate facing disciplinary action at school because of your protesting, be sure to apply to a college that supports that kind of action.
DO: Invest into issues you care about!
If you're passionate about a political topic and seek to write about it on your Common App or supplemental essays, it may help to invest more time and energy into official organizations outside of your school to show your dedication. This lends credibility to your actions, since colleges can communicate with these institutions and get a sense of how involved you are in organizing/contributing to activist work.
For instance, if you feel strongly about wrongful imprisonment of journalists and other protestors, one way you could take that passion and apply it at a higher level would be to join Amnesty International and start writing petitions and letters to world governments to call for prisoners to be released. Most political issues you can think of have organizations that help to focus efforts for change into something more impactful, so find ways to get involved with these organizations!
DON'T: Underestimate the power of activism on the ground level!
Even if tweets and posts on your Instagram story may not impress in the admissions process, they can certainly still help in the college process overall! Many sites, such as DoSomething.org, offer chances to win micro-scholarships (think $500-$1000 typically), for taking small actions like spreading awareness online. Even if it won't help you on an application, the small "easy" actions you take daily can still help you fund your college experience.
And finally, DO remember that your voice matters! Whatever your political beliefs may be, it is extremely important to make your voice heard to bring about the change you want to see in the world, whether that looks like voting or protesting.