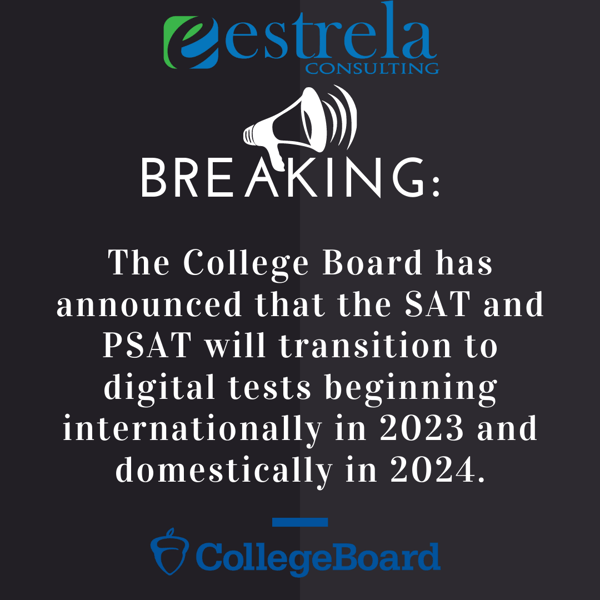 The College Board has announced that both the SAT and the PSAT exams will be moving from pencil and paper to digital exams beginning in 2023. The announcement comes as the number of colleges and universities declaring test optional futures continues to rise. Some highlights of this news include:
The digital SAT will be rolled out at international test centers in March of 2023 and at U.S. schools and test centers in spring of 2024.
The digital PSAT 8/9, PSAT 10, and PSAT/NMSQT will be administered internationally and domestically beginning in fall 2023.
The 1600 scoring scale will remain the same.
Students will take the test on a personal or a school-issued laptop or tablet.
The testing time for the SAT will be shorter at just two hours versus three.
Students will be permitted to use calculators on all parts of the math section.
Students receiving accommodations on test day will continue to do so.
According to Priscilla Rodriguez, Vice President of College Readiness Assessments at College Board:

"The digital SAT will be easier to take, easier to give, and more relevant. We're not simply putting the current SAT on a digital platform—we're taking full advantage of what delivering an assessment digitally makes possible. With input from educators and students, we are adapting to ensure we continue to meet their evolving needs."
Click here to read the full press release from The College Board.