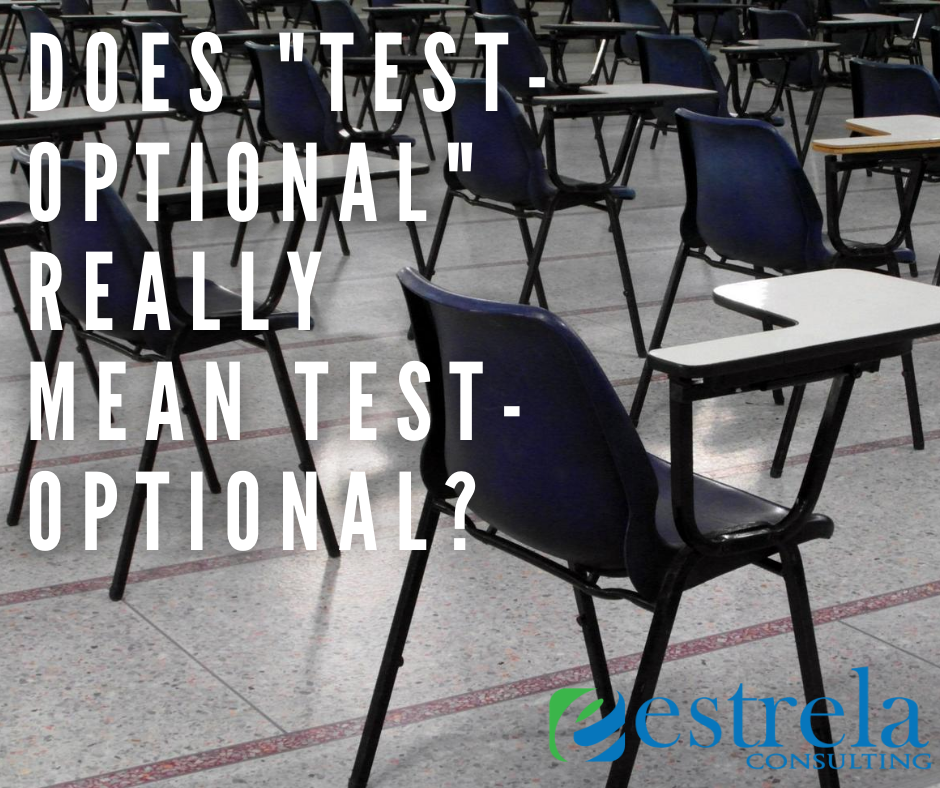 It feels like not a day goes by right now that an announcement isn't made about a college or university becoming "test-optional." Some have announced temporary plans that apply solely to the class of 2021 or even 2022, while others have decided to remove testing requirements indefinitely. However, there is one question that we keep hearing from students and parents: Does "test-optional" really mean test-optional? To help navigate this discussion, here are some important things to keep in mind:
Test Optional Does Not Equal Test Blind
While there are a few schools that are truly "test blind" - meaning they don't look at or use an applicant's ACT or SAT scores, even if submitted - there are some that have adopted this policy temporarily in response to the current pandemic. Those who are "test-optional" are far greater in number and, while test scores may not be "required" for admission, they will use them in the review process if submitted by an applicant.
To Send or Not to Send (That is THE Question)
This is the tricky part for students navigating the testing landscape today. According to FairTest, more than 1,450 colleges and universities are now test-optional (that's 3/5 of U.S. 4-year colleges and universities), with more than 400 of these just added just since the COVID-19 outbreak began. So how do you know whether you should send your scores or not? Here's an easy way to know: ask. That's right. Reach out to the colleges you are applying to and ask them if there is any advantage to submitting scores or if they are required for merit scholarship consideration. While we REALLY wish colleges that were test-optional would remove test score requirements for scholarship consideration some have state mandates for testing. A recent NPR piece cited this:

While high schools may not pay for one of their graduates to take a placement exam at a college or university, in many states, they will pay for a student to take the SAT or ACT. In fact, 25 states require high school students to take the SAT or ACT, offering the exams during the school day, free of cost. In some states, like Tennessee and Idaho, taking a college entrance exam is baked into high school graduation requirements.

Another way to look at the decision to send or not to send is to consider where your scores fall in the range of average scores for students admitted in previous years. If you're in the middle 50% range or higher, it probably makes sense to send scores to test-optional schools. Since this middle range will likely vary depending on the schools to which you're applying, you may end up sending scores to some, but not all, of your schools. A strong test score can serve as a positive piece of supporting evidence in your case for admission!
But, Do Test-Optional Colleges *Really* Want You to Take the Test?
The National Association for College Admission Counseling (NACAC) has just released a statement signed by more than 500 colleges and universities affirming this:

The following colleges with test-optional policies in place affirm that they will not penalize students for the absence of a standardized test score. Together, we strongly endorse a student-centered, holistic approach to admission that will not disadvantage any student without a test score.
While this statement - and the transparency it is providing - are wonderful, it's important to remember that this includes just 1/3 of the test-optional colleges. We can assume that those institutions who have opted not to sign this statement WOULD, in fact, prefer students submit test scores, if available. As to whether or not students applying to these colleges would be penalized in any way for not submitting scores - especially given test cancellations and safety surrounding testing during the current pandemic - we truly hope that will not be the case.
We encourage students to carefully consider their testing plan for each individual college to which they will apply, and to be sure to ask questions about these policies and how they may or may not impact opportunities for both admission and scholarships. Most importantly, before making plans to sit for any exams in the coming months, consider your own health and safety. No standardized test is worth the potential risks. None. We commend those colleges who have prioritized the best interests of their applicants and instituted truly test-optional and test-blind policies for students.