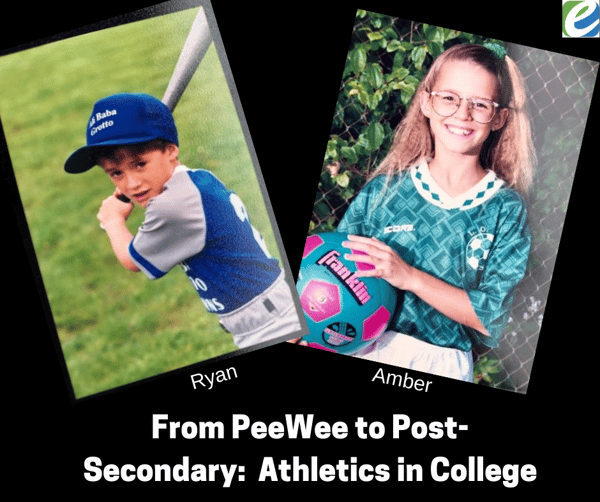 The pictures above are worth a thousand words. Although I enjoyed running around on the soccer field, my athletic career ended in eighth grade when I realized I enjoyed Drama Club more than sprints (my giant, wire-rimmed glasses and green scrunchie thanked me). Meanwhile my brother, Ryan, (the strapping six-year-old with the baseball bat) has maintained his athletic involvement to the present day as he is now the Assistant Athletic Director for Football Operations at the University of Houston after having served for several years as the Director of Player Personnel at West Virginia University (both Division I programs). My brother has made his passion for sports into a career (can you tell I'm proud?) and, for the purposes of this article, he serves as my sounding board on all things athletics in college.
Check out the steps prospective athletes can take to playing their sport in college (with feedback from my brother along the way!).
Step 1:
Evaluate yourself athletically and academically.
Ask coaches for an honest assessment regarding your technique, ability, and fitness level.
Ryan's Thoughts:

People talk about potential all the time. An athlete in eighth grade with all of the potential in the world still has to do the work, avoid major injury, and earn the grades throughout high school. Usually around the end of sophomore year or beginning of junior year is when an athlete can most accurately say – I have a chance to play at the next level.
Step 2:
As the student, educate yourself on the process.
Talk to your school counselor and your coach(es) about high school classes that satisfy the NCAA core class requirements and schedule yourself to take four to five core classes a year.
Visit the NCAA Eligibility Center to learn about requirements for eligibility.
Ryan's Thoughts:

The most common mistake we see in our office year in and year out are players assuming that the people around them know the eligibility rules and that they will be fine. Never assume that anyone else knows the rules. Educate yourself and build in buffers academically to counterbalance lower grades in a core class.
Step 3:
Decide what level is best for you. The NCAA Guide for the College-Bound Student Athlete provides a realistic look at the commitment of each division level.
Visit NCAA Eligibility Center website and each college's athletic website for your specific sport. Check out the roster for your position.
Determine if your statistics fit within the averages reported for the position on the team.
Consider if there will be vacancies for your specific position due to graduation.
Look for schools you would want to go to if you didn't play your sport to account for the unforeseen (injuries and/or other events).
Ryan's Thoughts:

All prospective college athletes must be real with themselves. They should ask:

"What matters to me? Do I want to play? Can I compete at this level? What size of school am I most comfortable at?"

The reality is that not every DI athlete has a full scholarship. Some have partial scholarships and some are walk-ons and work for a year or two to earn a scholarship. Playing a college sport is a huge commitment outside of time on the field or the court. Students have to keep their grades up, go to study tables, attend team meetings and team dinners, miss class for away games, and keep their bodies in shape. They have to be ready to commit.
Step 4:
Be your own advocate! Develop an athletic résumé and put together a highlight video ranging between 3-4 minutes (your coach should be able to help you with this).
Résumés should include contact info, personal stats, academic profile, athletic accolades, camps, trainers, and coaches.
Videos should include varied footage of training, games, and different skills sets.
Consider setting up an athletic profile through an online recruiting website.
Ryan's Thoughts:

Complete at least two seasons of high school level play before putting together highlight footage or sending it to coaches. One season provides limited information. Plus, the younger the player the more they will grow and change by the time they get to college.
Step 5:
Visit the athletic website of each school on your list to complete the prospective student athlete questionnaire online.
Contact coaching staff to learn about summer camps (sophomore or junior year summers are best!).
You can email a coach early on (end of sophomore season) with a highlight video and a message about your interest.
Plan visits to schools on your list early (usually end of sophomore year and through junior year).
Use this list of Questions to Ask Coaching Staff when you visit or correspond with coaches.
Ryan's Thoughts:

Pay attention to the NCAA recruiting calendars and contact timelines. Coaches can only contact prospects during certain times of the year depending on the sport.
Step 6:
Register with the NCAA Eligibility Center by the end of your junior year.
Communicate with your high school counselor to send your transcript(s) to NCAA at the conclusion of junior year.
Send your official ACT or SAT scores to the NCAA.
Maintain your academic eligibility throughout high school with strong GPA and test scores.
Review the Division I and II eligibility worksheets found in the NCAA Guide for the College-Bound Student Athlete.
Ryan's Thoughts:

One of the greatest gifts a prospective athlete can give him/herself is to take the ACT or SAT early and often to achieve the score needed for collegiate eligibility. If they start out strong, great. But, if not, then they have a lot of time left to improve incrementally. The next greatest gift is to challenge themselves in the classroom to prove that they can challenge themselves on the field.
Ryan's Rundown:
As you can clearly see, I am incredibly proud of my brother and, as a bonus, he serves as a wealth of information on this topic! Here are some final tips from Ryan that didn't fit into the steps listed above.
Did you transfer high schools?

Be sure that all of your records follow you. If you transferred mid-year, confirm with the counselors at your old school and new school that you earned credit for your pervious term's classes.
Keep in mind that transcripts from all high schools will need to be sent to the NCAA, so records must follow you.

Did you take online classes, college classes, adult education courses, or dual enrollment classes?

Confirm with your counselor, but chances are they are not on your high school's NCAA approved core course list.
Never assume that any class outside of the traditional school-day model is NCAA approved.

Do not assume scholarships.

DIII colleges cannot provide athletic scholarships, only academic. Most students and parents do not realize this until too late in the process. Another reason why grades matter!
If your dream is to play at the DI or DII level, consider starting as a walk-on if scholarship offers have not been made. If you budget financially for a year or two without a scholarship, then you can give the DI or DII plan a shot.
As always, keep your resources in mind (counselors, coaches, parents, etc.). The NCAA Guide for the College-Bound Student Athlete is a great starting point.
Finally, enjoy the redeeming picture below of my brother and I at his wedding in 2014. We've both come a long way since the peewees.