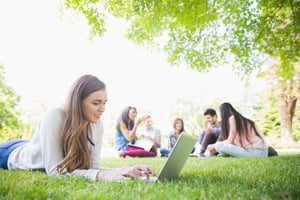 Ahhhh yes…the résumé. An often times optional part of a college application submission process. Incredibly, this unassuming word, with its two accented 'e's, can cause accented stress on an applicant (see what I did there, eh?). This post - Part 1 of a 2 part series on résumés - will tackle three common résumé questions many high school seniors face when crafting your résumé.
3 Common Résumé Questions
1) How do I structure my college application résumé?
There's no clear cut right or wrong way to setup your resume.
Awesome templates are available through apps such as:
Word, GoogleDocs, or Naviance Family Connection (if your school has this program). Even a quick Google search of résumés will yield great templates.
Browse some apps or Google for different styles until you find one that you like best and then plug in your information accordingly.
2) What information should be included on my college application résumé?
Your name and contact information (e.g. address, phone number, and email)
Co-curricular experiences of note

For example, if you've been admitted into a special/selective program at your school or with your district.

Independent research/academic projects (that were not school related)
Extracurriculars (school-based and other)

Sports, school clubs, theater, music, etc.
Activities at your place of worship, club sports, or non-school activities (EX: Karate, dance, piano, horseback riding, etc.) all count.

Volunteer experiences/Community Service
Paid work experiences
Honors and awards
Hobbies and personal pursuits

Perhaps you draw, scuba dive, or fish during most of your free time - it counts!

Special skills

Do you know computer code? Are you brilliant with Photoshop? Include it!

For each activity or organization, you'll want to include 5 elements:
Your role
The organization name
The years you were involved
Hours (especially for volunteering)
A brief description of the activity
3) Do I need to submit a résumé if the wording states that it's "optional"?
It depends.
If, on your college application, you were able to include your activities, leadership, and necessary explanations for each then you probably do not need to include the résumé as it would be redundant.
However, if you find that you have more worthwhile activities and/or leadership than what you have space for in your application, it is entirely appropriate to include your résumé.