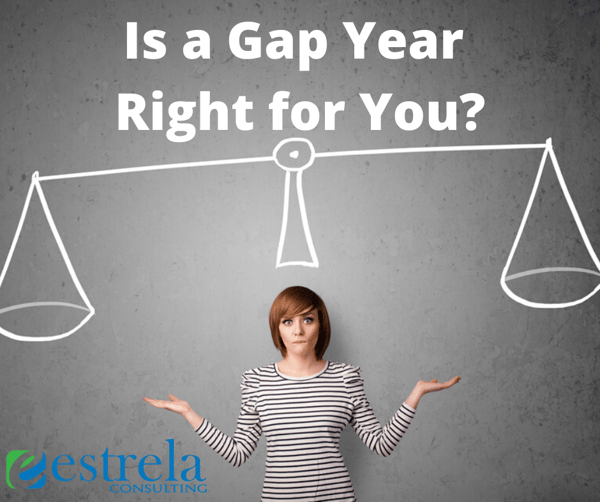 What is a gap year? How do you know if a gap year is right for you? As if navigating which college to attend wasn't enough of a decision already, after all the work of applications and deadlines, now I have to decide whether or not I even want to go?!
Deciding on whether or not to pursue a gap year sounds like a stressful process, but it's not intended to be. Gap years have been around since the existence of higher education, but have recently surged in popularity. As high school becomes more and more rigorous, sometimes it is nice to have a sort of mental break before the next round of classroom activity begins. Harvard even goes so far as to recommend students complete a gap year before their next round of study. Case Western Reserve makes a similar recommendation to students before they begin med school at the university.
Since February is National Gap Year Exploration Month, let's take a minute to break down some of the ins and outs of gap years.
What is (or isn't) a Gap Year?
It's a little easier to define what a gap year isn't - sitting at home on the couch in your parent's basement surfing Netflix for 8 hours a day (as relaxing as that might sound some days)! While a gap year often may include some sort of mental break, that's not the sole purpose.

Generally gap year programs involve one or more of the following components:

extensive travel,
volunteerism,
language immersion,
and/or internship exposure.
This means gap years are often busy, with ample learning and growth opportunities. Programs can be short or long-term, spanning a few weeks to a full year, so the cadence of the curriculum differs with each program.

Do I have to choose a program, or can I make my own experience?
Since many gap year programs are not full-term, you can combine multiple experiences into one. You can also make your own pathway by choosing to intern with a local organization or volunteer with a service group.
However, this is a much heavier lift. There are hundreds of gap year programs and organizations that have taken the burden of determining learning outcomes and travel locations for you, so take advantage of the great work they are doing! If you are interested in traveling, it is much easier to do so with an established organization rather than navigate visa requirements on your own.
Where should I start exploring?
The Gap Year Association is one of the most comprehensive places to begin your search. This organization also offers accreditation of various programs that ensure programs are safe for students and have strong program outcomes.
USA Gap Year Fairs offers a short 12-question quiz to help match your interests with eligible gap year programs. With so many program options, this is a good first step to narrow down programs that match your criteria.
You didn't answer my question. Can't you just tell me if I'm supposed to defer a year or not?
Unfortunately, no. Just like choosing a college, there is a different best pathway for everyone. Each situation is different and, just like college, gap year programs are full of a wide range of students - no one individual is or isn't a gap year candidate.
If you are considering a gap year, it is important to have the conversation with multiple individuals - as a family, with the school counselor, an IEC - before making the decision. A gap year may or may not provide the best opportunity for you, depending on what type of experience you are looking to have - it might be best to go on a short-term trip over the summer or for a single semester. There is certainly some overlap between college and gap year programs - internships, volunteering, and study abroad are all components of many college student experiences as well.