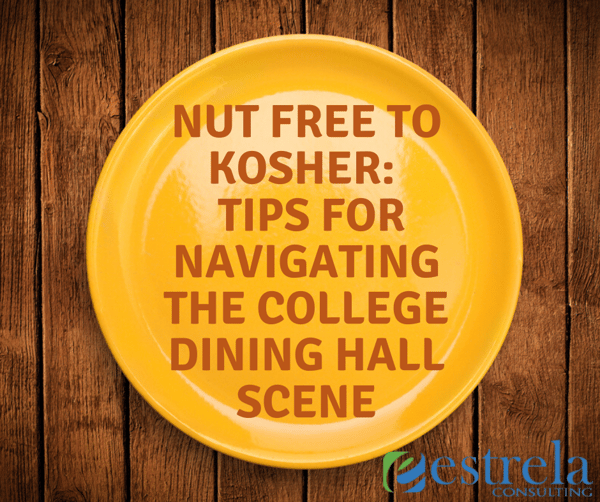 Remember the days when college dining hall meals consisted of "mystery meat" and lumpy mashed potatoes? Fortunately, those days are long gone, and colleges have significantly upped their game in serving a variety of delicious options. While pizza, pasta, and unlimited soft-serve ice cream are a mainstay of most college student diets, there are increasing numbers of students who have dietary restrictions due to allergies and sensitivities, religious beliefs, and lifestyle choices. If food restrictions factor into your college search, there are resources available to help you navigate allergies, celiac, kosher, and vegan eating in college dining halls. Grab a snack and read on!
How Do I Locate Colleges That Will Accommodate My Dietary Needs?
The Food Allergy Research & Education (FARE) organization has outstanding resources for those students that contend with allergies or sensitivities to various ingredients. They suggest that before a student enters college, they know how to articulate their needs, know what accommodations are required, and anticipate how to react in social settings. They also provide a helpful checklist of questions that a student can ask of dining services in advance of move-in day. FARE also provides a useful list of 90 colleges that prioritize accommodating their students with dietary restrictions, and how they are doing just that. Information is provided on which schools make ingredient lists available, have cross-contact procedures, make accommodations for roommate assignments, and stock epinephrine for emergencies.

For those students that require kosher dining, Hillel International provides a "College Guide" tool that allows students to search for member colleges and access information about Jewish life on campus, including the availability of kosher dining. Students can search for a particular college, or search within a specific geographic radius.

For vegan students, PETA offers a "Vegan Report Card" of approximately 1,600 colleges that can be sorted by state. The scorecard provides a detailed assessment of vegan options and student satisfaction with the vegan food served.
Can I Ask About Dining Hall Food During Campus Visits?
Students should certainly prioritize gathering information about dietary options during their campus visits. Call ahead and ask the admissions office if there is information available about dining services that can be reviewed in advance and ask for contact information for a dining services coordinator. Also, plan to tour a dining hall during normal mealtime hours to see how the food is handled and what is available. Questions that a family may want to consider asking are:

What current accommodations are in place for students with dietary restrictions?

Has the dining staff been trained in dietary restrictions, including emergency procedures for anaphylaxis?

What precautions are taken to prevent cross-contact?

Are ingredients listed online, or made available upon request?

Can the school offer housing accommodations?

Are Resident Assistants trained in the signs of an allergic reaction, and be able to administer epinephrine?
Which Colleges Are Serving Up The Best Variety of Food?
In 2019, Spokin compiled the "Top Rated Allergy Colleges," and Cornell University topped the list. Northwestern University, Vanderbilt University, the University of Chicago, and the University of Michigan rounded out the top five. These colleges also received high marks for their kosher and vegan dining options, indicating a commitment to serving the dining needs of all of their students. So long, mystery meat