This year, new college students face a daunting challenge: starting a new chapter of their lives during an ongoing pandemic and their college plans very different than they'd envisioned. While some colleges are holding entirely in-person classes, others have opted for a fully-remote or hybrid model in the interest of limiting exposure to COVID-19. Interested to hear what current college students think about their college experience so far? So was I! I spoke with students who are attending college fully in-person, fully online, or a mix of both to get a sense of what this year's college experience is like.

The In-Person Experience: Ellie (Wellesley College) and Isaac (Anonymous Institution)
Q: How are students attending classes?
A: Since all of their classes are in-person, both Isaac and Ellie report having classrooms that take proper COVID-19 prevention procedures. Though classes may visually look different, it seems that colleges meeting in-person are doing their best to simulate the normal college experience.
Q: What are dorms like? Do students have roommates?
A: While Isaac reports having a roommate, Ellie shares that she has a single since only half of her class is on-campus this year. Despite these differences, both students report that they feel safe in their current dorm setups. When talking about how her dorm situation has altered to accommodate for COVID-19, Ellie explained: "We're placed into "blocks," which are small groups of people that live right around you that you are allowed to eat with. Blocks are also assigned shower stalls, bathroom stalls, sinks, etc, in the bathrooms so that if one of us tests positive, they will have an easier time doing contact tracing."
Q: How are students connecting with one another?
A: Though the large parties you might associate with the beginning of college may not be as common this year, students are connecting both through social media and socially distanced meetups. Isaac says that he is meeting up with other students "quite well" in person. Ellie has been connecting with her block mates and proudly reports that they just finished watching the first six Star Wars movies together!
Q: Do schools frequently test students for COVID-19? Do students follow COVID prevention policies? Do you feel safe on campus?
A: Both students said that their colleges frequently test students for COVID-19, indicating a strong interest by the administration in keeping cases to a minimum. Isaac reports that his college tests on a day-to-day basis, while Ellie states that students get tested twice a week. Additionally, students take COVID prevention measures seriously: both students reported that their classmates are mostly following all restrictions. It's likely this community-wide commitment to staying safe that led both students to indicate that, overall, they feel safe attending college on campus.
The Online Experience: Annella (Stanford University)
Q: Is it difficult starting off your college experience remotely? Why or why not? How are you connecting to other students?
A: Annella mentions that while she has some difficulty with the adjustment, "I feel like it's given me an opportunity to truly focus on my class work without the other activities." While the academic transition has been easier, the social transition is still tenuous. While social media is handy for making acquaintances, it is difficult to make close friendships since students don't have time between classes to hang out or explore the college area. Still, social media connections do hold promise to help students like Annella have connections when colleges resume in-person learning.
Q: Where do you like to get work done? Are there advantages to online classes (outside of staying safe, of course)? How do extracurriculars work/do they work?
A: Annella indicated that she is currently completing her work at home. While it may not be the same as attending classes, she and other online students do get some flexibility in determining their work schedule and what their work space is like. Online classes have their advantages too; without the chaos and homesickness that typically accompanies freshman year, students have more of a chance to adapt to their new circumstances. Annella mentions, "I feel like I can really dive into my school work because there isn't the stimulus of the new environment that might've made it difficult to adjust to the course load." While the success of extracurricular activities remains TBD, Annella feels as though Stanford made the correct choice to go online and feels confident that she will get her on-campus experience in the spring.
The Hybrid Model: Miranda (Clark University) and Libby (Bucknell University)
Q: Even though you're on-campus, do you attend classes in-person or virtually or a mix of both?
A: With the hybrid model of learning, most students have a mix of virtual and in-person classes and even classes that are partially in-person and partially online. This holds true for both Libby and Miranda, who report experiencing all three types of classes during their first semester.
Q: What are dorms like? How are you connecting with other students?
A: Both Miranda and Libby report positive experiences with getting to know their fellow dorm residents. Though Libby doesn't have a roommate, she's happy to say she has "a very nice group of girls in [her] hall" that she's been able to get to know throughout the semester. Meanwhile, Miranda reports having a roommate. Both dorms seem to be taking similar COVID prevention measures to dorms across the country. Here's Miranda's description of how she and her fellow students stay safe: "We have to wear masks everywhere in the dorm except in our rooms (including the bathroom). All of the high-touch areas in the dorm are cleaned multiple times a day. Bathrooms are cleaned every morning and floors are vacuumed/mopped every other day."
The hybrid mindset of fusing online and in-person interactions extends from academics to social activities; it seems that both social media and in-person meetups are equally crucial to getting to know fellow students on campus. Types of events that tend to be more popular due to the ease of socially distancing include meeting at the library, attending movie nights, or gathering in small groups outside.
Q: Does your school frequently test students for COVID-19? Do students follow COVID prevention policies? Do you feel safe on campus?
A: The frequency of COVID-19 testing, again, depends on the institution but appears to be pretty frequent no matter what. At Libby's school, students are tested every 10 days. At Miranda's school, students are tested every 3 days and faculty/staff are tested once per week. Both schools have strong COVID prevention policies; however, student dedication to following said policies is described as being mixed (though in both cases I encountered it seemed that more students than not wanted to follow the rules). Regardless, both students feel mostly safe on campus and appreciate the opportunity.
Thank you for checking out this exciting look into the current world of campus life!
---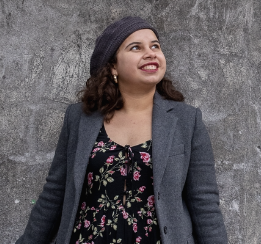 We are thrilled to announce a new Estrela column: "Jasmine's Take!" Jasmine Wheeler joins Estrela's team as a recent high school graduate, taking a gap year before joining Stanford's Class of 2025. Working in social media management and writing, she hopes to offer an insider perspective on what it's like to go through the college process. In her spare time, Jasmine enjoys watching films with her family and working on her writing projects.