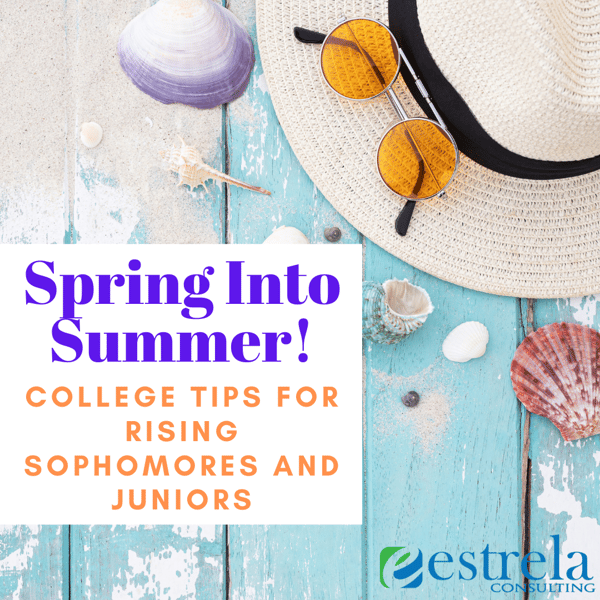 For those of us living in the northern half of the U.S., the weather makes summer feel like a LONG way off. But, in reality, it's already April and school will be out before we know it. Summer is a great time for outdoor BBQs, swimming with friends, and catching up on some ZZZ's after a busy end of the year. It is also the perfect time to work on your college planning process!
JUNIORS HEADING INTO SENIOR YEAR
Senior year begins like a sprint in the fall, but it's really a marathon of activities to finish out your last year in school. Focusing on a couple of activities over the summer will make you well-prepared to handle the busyness of the year as well as all the upcoming college deadlines.
Narrow Your List: The college application process kicks off on August 1st when most applications for the upcoming application year go live. Most of the earliest deadlines for applications occur in the first half of November, giving you a short window to get all of your applications complete. It's ideal to have the list of schools you plan to apply to narrowed down before the end of the summer so you can begin researching deadlines. Spend some time in the summer digging deep into which schools might be right for you so you're ready to dive in once the apps go live.
Start Your Essays*: The majority of colleges use the Common Application, and most require the main Common App essay to be submitted as part of the application. The essay prompt options are available now so students can actually begin writing over the summer months. In addition, some schools will require supplemental essays as part of the submitted application. While these prompts might not be available until after August 1st via the Common App, some colleges will post them on their own websites so students can get a head start on writing these, as well, over the summer.
SOPHOMORES HEADING INTO JUNIOR YEAR
Congratulations, you are now halfway through high school! For better or worse, your last two years will go by even faster than the first two. Even though you don't start the actual college application process just yet, junior year is filled with many steps in the college preparation process.
Take a Road Trip (or Two!): There's no better way to know if a college is right for you than to step foot on campus and visit for yourself. Take advantage of the time you are not in school to travel to a few colleges that interest you to start to figure out the type of schools you would like to attend. College students may or may not be on campus, so always check with the admissions office for special events and tour hours.
Test Prep: No one wants to study over the summer, but it is even more difficult to do so on top of course assignments during the year. During junior year you may consider taking one (or both) of the entrance exams used in college admissions: the SAT or ACT. While many colleges are now test-optional, a solid test score can be a positive data point in your application. If this sounds like a plan for you, finding a good test prep resource and spending a little time each week on practice questions and strategies can be helpful. You may be dreading it now, but your future test-taking self will thank you!
While there is much than can be done during the summer months in relation to your college search and application process, we also encourage you to have fun! Enjoy the time away from school to focus on your mental health and wellbeing, as well as spend time with family and friends.
*Estrela Consulting offers stand alone Essay Support for those students in need of guidance navigating this piece of the college application process! Contact us today by clicking below to learn more about our essay specialists and Essay Development and Guidance Package!