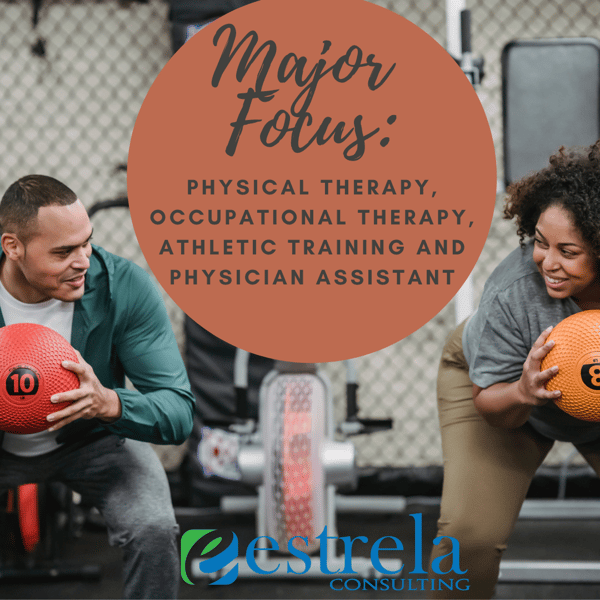 So you know you like medicine, but aren't interested in 10+ years of post-high school education. You have seen various acronyms - OT, PT, PA, AT - but what do they really mean, and which one is right for you? Aside from the fact that "O" and "P" fall next to each other in the alphabet, and both abbreviations end in "T", OT and PT are very different professions. PAs are vaguely similar, the roles of an AT overlap with PT, and all programs require extra years of school.
Clear as mud, right? Let's start with the basics and break down each type of profession.
Occupational Therapy refers to the rehabilitation of day-to-day activities. Individuals who participate in occupational therapy need assistance learning or re-learning how to perform basic actions - whether it be as a result of an accident that caused a temporary or permanent disability, or a mental or age-related illness. This could be as simple as tying shoes or moving boxes, to more complex behaviors such as navigating physical & social circumstances.
Physical Therapy supports the rehabilitation from a physical injury. Physical therapists are most frequently associated with sports injuries, though they could also be used as a result of other accidents or general support post-surgery. Their focus is almost exclusively on the physical aspect of a human, not mental, emotional, or overall state of wellness.
Physician Assistants are often wrapped up with the previous two professions, but they are the most different in terms of education, skillset, & on-the-job experience. PAs function closest to a medical doctor who can diagnose illnesses, recommend treatment, and prescribe medication, but they don't necessarily have a focus in one singular area as you would expect with a medical specialist.
Athletic Trainers are similar to physical therapists, but focus exclusively on athletes. While physical therapy often occurs as a result of a sports injury, athletic trainers are the ones ensuring that minimal injury or damage occurs to the athlete - proper prevention is key! Athletic trainers are integral to every sport and level of competition.
How many extra years of school do I have to complete?
All of the positions above need more than your basic bachelor's degree and require some level of board examination or certification to practice. ATs have the shortest path to profession (some schools even offer 4+1 programs) with a traditional master's level program as well as certification required to practice. OTs and PAs typically follow 3 years of school after a bachelor's degree, though sometimes longer in order to complete observation requirements. These programs are also considered master's level. PT programs are 3 years in length as well, but are considered doctoral-level. State licensure is also required.
What major should I ACTUALLY start with before graduate school?
All 4 of these professions overlap in a few basic subjects - biology, psychology, allied health & wellness, or kinesiology are all good places to start. Exercise science or sports medicine are better foundations for ATs, OTs, and PTs since they involve the kinetic movement of the body, while anatomy and physiology is more preferred for PA programs. Each school may have their own set of recommended courses to complete before starting a program. No matter which degree you are considering, be sure to visit your school's pre-professional office to ensure you are aware of all requirements and have a plan to include them in your current course load.
Still unsure?
The best thing you can do when deciding between any career is shadow someone in that role. Ask your parents or school counselor if they know anyone who would be willing to let you observe them in the workplace. If you play sports, ask your coach! They more than likely have used or know someone who is in one of these professions. Next time you visit the doctor, see if there is someone in the office who has a connection.
If you are just starting your bachelor's degree, you have plenty of time to figure out which one is best for you. However, you cannot switch around to different professions without earning a new certification from scratch, so make sure you are confident before you start your post-bachelor's program! Whichever route you go, all 4 individuals all work together for the wellness of a single individual.