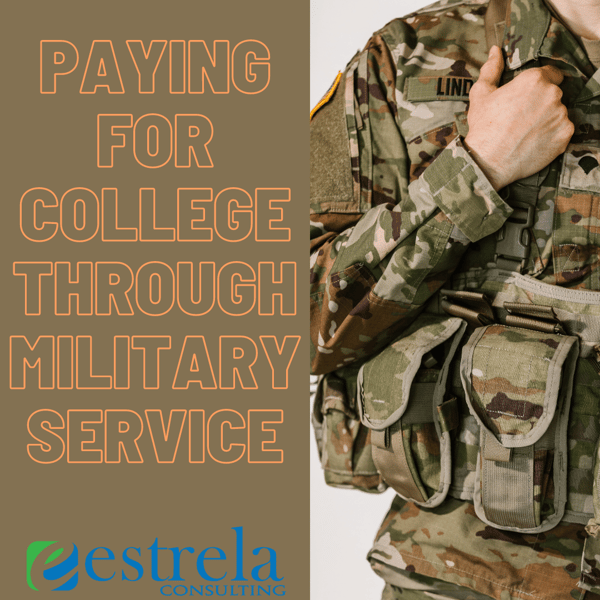 One of the many benefits offered to U.S. active duty service personnel and veterans is help with education and training costs. However, weighing your choices and opportunities can be overwhelming with some programs administered by your branch of service and others through the Veteran's Administration. There are also outside scholarships specifically for active duty, veterans and dependents. Also, many states offer state veterans benefits.
There are a wide variety of options that apply to active duty service members and more limited choices for National Guard or Reserve Personnel. At each duty station there should be a college office, education center or access to a virtual education center to assist you in understanding which program suits your needs best and how to apply.
Careful planning and research can help you and your family get the most out of educational and training assistance as a result of your service to our country. Below are some programs that may help you cover the costs of your education and training.
Military Tuition Assistance Program (TA)
Congress has given the Army, Navy, Air Force, Marines and the Coast Guard funds to pay for up to 100% of tuition costs under the TA Program. However, a cap is set on the cost of tuition, type of fees covered, and courses. In addition, not all branches of service cover those serving in the Reserves or National Guard. Program criteria, service obligation, and the application process vary by branch of service. Keep in mind if you don't complete your coursework, or if you receive a failing grade, you may have to reimburse the TA program.
Voluntary Education Program
In addition to the TA program, you may also be eligible for the Voluntary Education Program. Again, this program is service-specific and may provide scholarships, college funds and other educational programs. One of the convenient things about this program is that branches of the service have contracted with various colleges and universities to offer distance learning while you are deployed. At times the coursework can be extended due to your deployment.
Tuition Top Up Program
The Tuition Top Up Program covers fees and tuition not included by the TA program for those who are Montgomery Bill GI – Active Duty or the Post 9/11 GI Bill eligible. The money given to help cover the difference between the TA Program and the cost of courses and fees is deducted from your GI Bill benefits. It may be beneficial if you don't plan to transfer benefits, take courses after separation, or if you want to complete your degree while on active duty.
GI Bill Programs
The GI Bill program has been around for 75 years helping numerous service members and their families with the cost of education. If you meet the requirements, you may have all or most of your education costs covered. These programs apply to qualified active duty, veteran, reservists and guard members, a spouse or child (ren) using transferred benefits. You may qualify for more than one benefit but you must decide which benefit to use. You can't use more than one benefit at a time.
It is important to know that if you plan to transfer your GI Benefit to a dependent it must be done while on active duty.
The following are the current active major GI Bills:
Post 9/11 GI Bill
This is the most comprehensive of all the education benefit programs. To be eligible you must have served on active duty for 90 days or more since 9/11. You must request to use your GI Bill benefits within 15 years of your discharge. Benefits may include:
A housing allowance
Up to 100% tuition and fees at a public college or university, as of August 1, 2021, up to $26,042.81 per academic year at a private college or university
Money for books
Transfer of benefit to your family member(s)
Participation in the "Yellow Ribbon Program" (must have served 36 months)
A one-time relocation allowance
The Yellow Ribbon Program
The Yellow Ribbon Program helps cover the costs of attending a private college or public university. It works in conjunction with the Post 9/11 GI Bill.
Typically, the Post 9/11 bill covers a greater portion if not all tuition and fees at public college or university. However, attending a public school may not always be your best choice. In response, private schools participating in the Yellow Ribbon Program agree to waive part or all of the remaining tuition and fees above the allowable GI bill limit. For example, a Yellow Ribbon school costing $60,000 in tuition and fees agrees to waive $15,000. The VA will match the $15,000, plus the $24,476 from the GI Bill but leaves the student responsible to pay the difference of $5,523. Students may qualify for additional funding through scholarships and other programs.
Active Duty Montgomery GI Bill (MGIB-AD)
If you served prior to 9/11 and meet a set of criteria, you may get up to 36 months of education benefits for approved education and training programs. There are several categories of eligibility which can be found on the VA website.
Montgomery GI Bill Selected Reserve (MGIB-SR)
The MGIB-SR covers members of the guard in all branches of service and includes the Army National Guard and the Air National Guard. Unlike the other GI Bills, the MGIB-SR benefits end when you leave the reserves. However, under certain circumstances such as in-service disability and mobilization, this benefit may be extended.
Dependent Programs
If you are a survivor of service member who died in the line of duty or a dependent of a totally disabled veteran, there are programs specifically designed for you. In all of the programs you must meet eligibility criteria and may receive benefits equal to the Post 9/11 GI Bill.
Dependents Educational Assistance Program (DEA) or Chapter 35 and the Fry Scholarship are two programs aimed at assisting survivors and dependents. In certain circumstances you may be able to receive benefits from both the DEA and Fry Scholarship program.
In addition to programs administered by the Veteran's Administration and the armed forces, there are numerous scholarships earmarked for veterans and their families. Sites such as Military.com, the Department of Veteran's Affairs, and Military Benefits Info are great places to research additional funding and support.