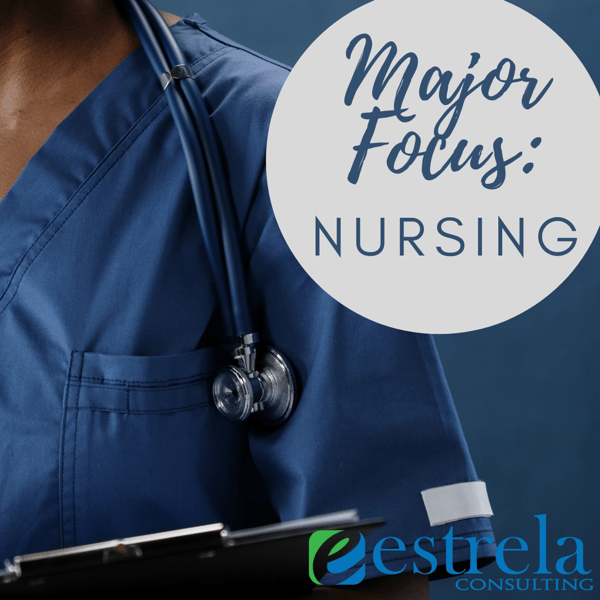 Nowadays exuding care for our fellow human beings feels paramount. Times are tough. And our nation's nurses are the epitome of caregivers (and probably need our care the most right now). Whether you've been to a doctor's office, the dentist, or even the hospital chances are you've been treated by one of healthcare's front line wonders. Personally, I have had nothing but amazing experiences with nurses and have often counseled amazing students on the pathways to becoming a nurse.
According to the Bureau of Labor Statistics, nurses provide and coordinate patient care, educate patients and the public about various health conditions, and provide advice and emotional support to patients and their families. What this very general definition fails to do is identify all of the interesting layers and complexities within the nursing profession. Nurses can have a variety of specialties ranging from oncology (cancer treatment) and neonatal (babies and new mothers) to psychiatric and anesthesia (medication used to put patients into unconsciousness during surgery).
Qualities of a Nurse
Excellent nurses tend to exude compassion and infinite patience for their fellow humans, while also being both detail-oriented (think medical charts!) and enjoying the process of investigating ailments. It is also essential for nurses to have strong communication skills so as to understand their patients' concerns and to instruct patients on how to manage their care upon discharge. Finally, nurses also need to be able to handle high pressure situations along with the sight of blood and any other kind of bodily fluid. If you enjoy nurturing and taking care of ailments while also trying to help others solve their problems, nursing could be a good fit for you.
Pathways to Become a Nurse
There are three pathways to becoming a Registered Nurse (RN): a bachelor's degree in nursing (known as a BSN), an associate's degree in nursing (known as an ADN), or a diploma from an approved nursing program (preparation if somewhat similar to an ADN, but usually has more clinical experience). For our purposes, we'll focus on the BSN through the rest of this article.
BSN
A Bachelor's of Science in Nursing program is more comprehensive in its preparation as compared to the other two pathways already discussed. BSN students spend the full four years in college taking courses in anatomy, physiology, microbiology, biological chemistry, statistics, nutrition and psychology. In addition to health sciences, BSN students also complete coursework in more general, wide-ranging disciplines like English and history (as a way to fortify critical thinking skills). As such, BSN students are typically qualified for more complex nursing tasks upon graduation and make higher starting salaries than nurses from the other two pathways.
Work Environments & Specialities
Nurses work in a variety of settings from our traditional ones of doctors' offices and hospitals to schools and assisted living centers. Best of all, nurses can opt to specialize. After achieving their nursing degree, additional clinical experience and coursework in a specific field can prepare a nurse for work in a speciality field (like the ones listed in the opening paragraph!).
College Preparation
There are many colleges and universities that offer BSN programs, but the questions below will help you determine if a BSN program is right for you:
Is the nursing program direct admit or are there prerequisite courses required before students can apply to be a nursing major?
What is the admission criteria for the nursing program? A certain high school GPA and ACT/SAT score? Or a specific college GPA with strong grades in nursing-specific prerequisites?
Is there access to hands-on, real-world clinical experiences as a student?
If so, what types of clinical experiences are available (e.g. hospital shadowing? Lab training?).
What are the nursing facilities at the university like? Can students work with robotic simulated patients?
Is the program accredited by a federally approved accrediting association (e.g. ensures that students who graduate from an accredited program have the skills and training to be competent nurses).
What is the passage rate on the National Council Licensure Examination (NCLEX) for recent graduates?

NCLEX is the licensing exam nurses must pass to earn their license.
Highlight Programs
The Ohio State University

in Columbus, Ohio has incredible partnerships with the university hospital system on-campus as well as a full scale lab that includes real-life, anatomically correct mannequin simulators. There are also several opportunities for undergraduate research in nursing as well.

Has a pathway for direct admit and for admission after prerequisites are met.
Hope College

in Holland, Michigan offers a skills lab with adult, pediatric, and newborn simulation mannequins, while also requiring all nursing students to complete research practicum. Some may be lucky enough to score a research position in the Nursing Genetics Lab, which is currently doing research on Alzheimers. Hope College is one of only a few programs nationwide to offer such high level research opportunities.

No direct admit. Prospective students can apply after completing 12 credit hours at Hope.