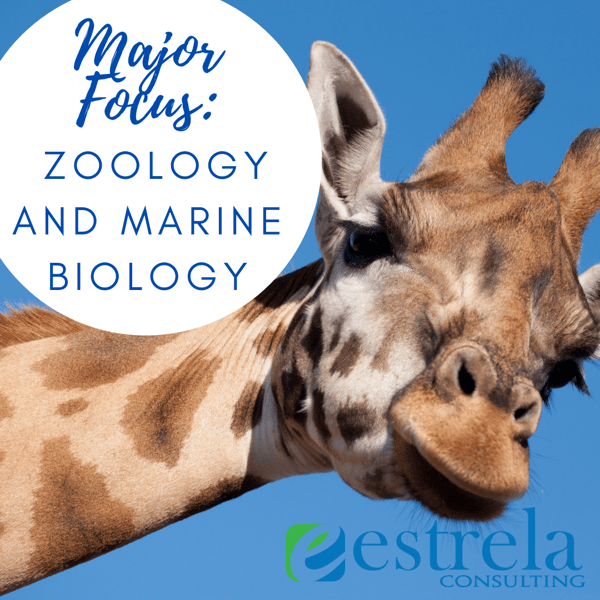 One of my favorite pastimes has always been a trip to the zoo. I find the animal world to be innately fascinating and now that I am a parent, it is equally rewarding to watch my young children experience this joy. Hands coated in sticky Dippin' Dots and noses pressed against the exhibit glass, they gaze with wonder and delight at the mesmerizing creatures while mimicking their howls and roars.
Many of us feel this strong connection to animals, but for some the need to investigate, explore and preserve goes beyond the occasional trip to the zoo or aquarium. If this sounds like you, you may want to consider a major in Zoology or Marine Biology!
According to the College Board Big Future major and career search tool, Zoology majors study animals with and without backbones, from worms, insects and mollusks to fish, birds and mammals. There is a focus on anatomy and the chemical makeup of animal bodies, cells, and organs. Zoologists also explore whole populations of species, and the ways animals interact with and adapt to their environments. Marine biology is sometimes offered as its own full degree program, and sometimes as a concentration to a Zoology or Biology major. It is the study of marine organisms, their behaviors and interactions with the environment.
Both Zoology and Marine Biology programs provide students with the foundation to pursue careers in research, conservation, and education. Due to a heavy focus on biological principles, both majors are also excellent options for students interested in pre-health or pre-vet tracks.
There are many colleges that offer Zoology and Marine Biology programs. When deciding which is the best for you, you will want to consider the following:
Does the program have established partnerships with zoos, aquariums, government agencies and research institutes?
Are there opportunities for mentored undergraduate research, field work and internships?
What type of labs, facilities and equipment are available?
Is the university strategically located for field research? If not, is it partnered with an institution that is? (For example, students enrolled in the

Marine & Aquatic Biology

specialization at land-locked Bowling Green State University spend their summers doing research at the

Gulf Coast Research Lab

at the University of Southern Mississippi)
Highlight Programs to Consider:
Otterbein University

in Westerville, OH, offers one of the country's only programs in

Zoo & Conservation Science

. This is a unique option for students who specifically want to work in a zoo or aquarium setting. Students benefit from partnerships with the Columbus Zoo & Aquarium, Ohio Wildlife Center, and Reef Systems Coral Farm for internship and practicum experiences.
Situated on Florida's Gulf Coast in St. Petersburg,

Eckerd College

offers a robust

Marine Science

program right on the ocean (and often in the ocean on the university's private fleet of vessels). Program highlights include field research experiences through the

Eckerd College Dolphin Project

, a partnership with the

Bermuda Institute of Ocean Science

, and international research opportunities in Cuba, China, the Virgin Islands, Costa Rica, Indonesia, the Bahamas and Spain.