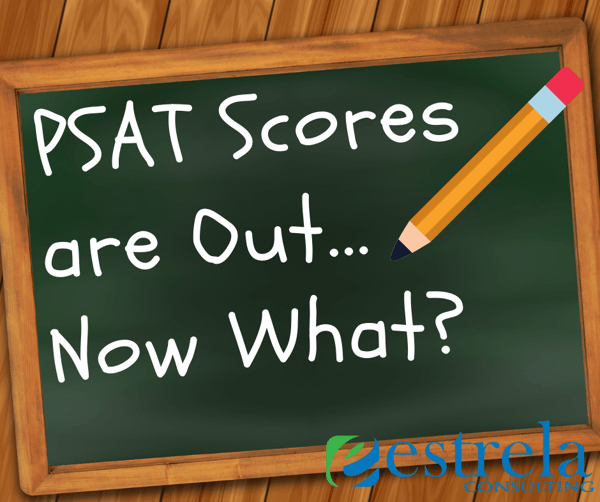 It is a big week for sophomores and juniors with the release of PSAT scores. Let's take a deep dive into PSAT score reports, what they mean, and what your next steps should be. Read on for answers to some of your burning questions about your results!
There Are A Lot of Numbers On The Score Report. Which Are The Most Important?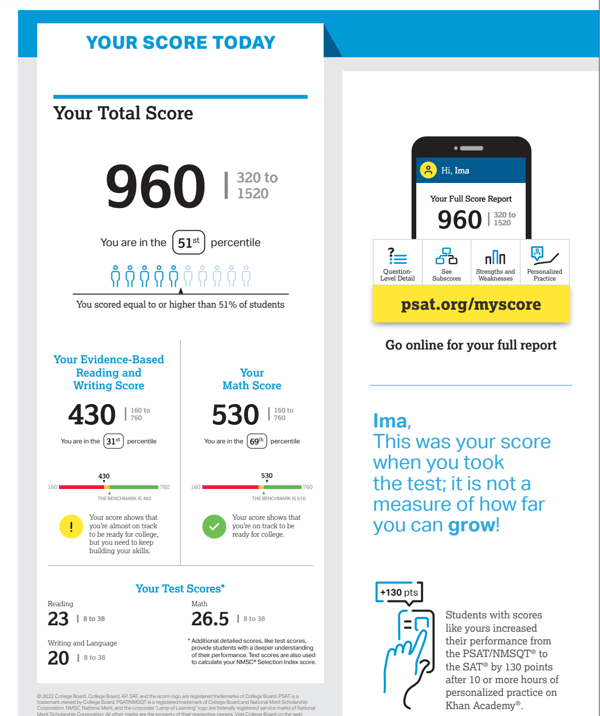 The Total Score is the first number you see, which is a combination of your Evidence-Based Reading & Writing and Math sections. With each of these scores is also a percentile, which places your score in relation to where the typical high school student of your age would fall. Benchmarks represent whether you are currently on-track for your grade level as well as on-track to enter college upon graduation. If you are in the green, you have met or exceeded the benchmark – congratulations! If one of your scores falls in the yellow or red section, don't worry – you still have time to improve your scores.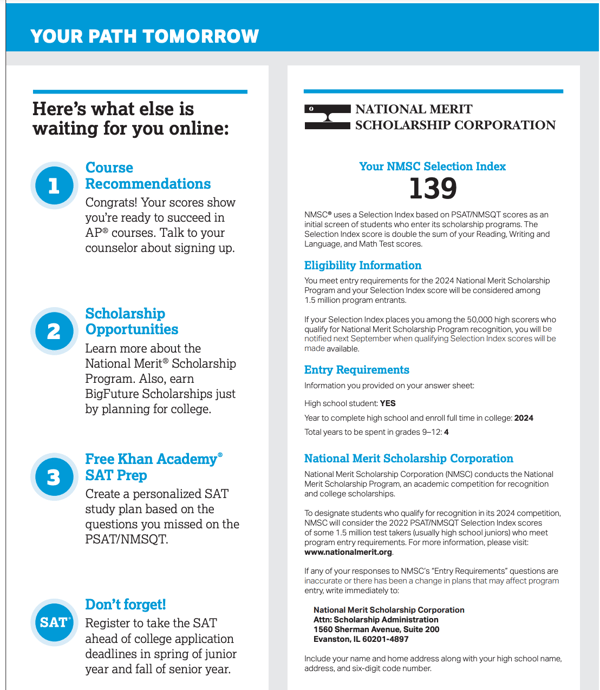 Your Test Scores are important for determining your Selection Index, which is used for National Merit Scholarship eligibility (discussed in more detail below). It is calculated by doubling the sum of your Reading, Writing & Language and Math scores. Lastly, there are Cross-Test Scores and Subscores that offer feedback on specific subject areas. These are for your information only and help in determining which areas you need to improve most.
Can I Receive Scholarships Based On My Score?
Yes! The most prominent scholarship opportunity related to the PSAT is the National Merit Scholarship Program. Your Selection Index from the PSAT determines your eligibility for this program. The minimum criteria for this scholarship changes every year based on the range of scores that students receive, but the highest you can possibly receive is 228. Of all students who complete the test, ultimately the top 1% will become Semifinalists with a chance to complete additional requirements and earn the title of National Merit Finalist. This 1% represents the highest scoring test takers in their state, but notification of selection is not announced until September of your senior year.
Being recognized as a National Merit Finalist opens up the door to many scholarship opportunities through the National Merit Scholarship Corporation. In addition, many colleges and universities have scholarship programs available specifically to those who have been named a National Merit Finalist or Semifinalist. In addition, students who fall into the top 3% of overall test takers will be eligible for more than 200 scholarship opportunities sponsored by outside corporations. Check out a list of additional PSAT scholarship resources here.
What Else Are PSAT Scores Used For?
When you completed your test registration, you were asked if you would like your information shared with College Board's Student Search Service. This means your information is now available to colleges all over the country as a way for admissions offices to connect with you. Soon you will start receiving large amounts of view books and admissions pieces via snail mail and email. These are a great way to begin expanding your college search. Your test scores are not shared, but other elective information, such as intended major or college preferences, might be.
Are you thinking about enrolling in AP courses next year but aren't sure if you'll be able to succeed? Your online score report compares your PSAT score with your potential to successfully complete various AP courses by subject, giving you recommendations on which subjects to enroll.
I'm Not Happy With My Score. Now What?
Remember that PSAT stands for Preliminary SAT – so if you aren't happy with your score, there are plenty of ways (and time!) to improve. A great free resource to begin with is Khan Academy. Khan Academy partners with The College Board to offer free practice for all of the assessments they offer – beginning with the PSAT/SAT, all the way through SAT II and AP tests in high school. By using your College Board log in, your practice questions will be personalized to the areas you specifically need to improve once you sit for the actual SAT exam.
Will My PSAT Scores Affect My College Admission Chances?
That's an easy one: not at all. In fact, colleges do not receive copies of your PSAT scores so there's no need to worry. Consider the PSAT as a first pass at standardized tests. So, take a deep breath and use these results to help guide your next steps in preparing for the actual SAT exam.