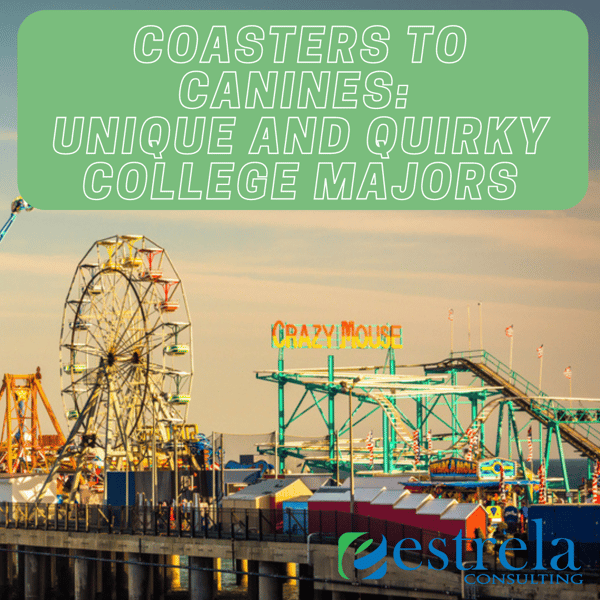 As we all know, August is Back to School month. But did you also know that August also contains some other unique days? Aviation Day. National Dog Day. National Honey Bee Awareness Day. National Mountain Climbing Day. National Roller Coaster Day. Inspired by August's mixture of quirky days, we've put together a short list of related quirky majors!
Air Traffic Management
Ever wonder who sits in those high towers at airports? Air traffic controllers direct the flow of plane traffic on runways around the world. Training on safety, operations, aviation, and management are the cornerstones of this major. Not just anyone can become an air traffic controller. After obtaining a bachelor's degree, students must continue on to the Federal Aviation Administration (FAA) Academy for final training. Interesting note! Over 85% of the U.S. controllers will reach retirement in the next decade. Check out Embry-Riddle Aeronautical University for this major (and other unique aviation-related studies).
Canine Training & Management
Are you a dog person? I mean, are you really a dog person? A major in Canine Training and Management teaches everything from nutrition and pet quality basics to specialty programming for Therapy Dogs and Detector Dogs. SUNY Cobleskill (State University of New York) offers this unique program of study. Other universities offer Animal Science, which when paired with canine-related internship experiences could provide similar training.
Entomology
Bees? Bugs? Conservation? If you have a passion for those with more than two or four legs, consider the study of Entomology. Most curriculums provide a background in biology and natural sciences with focus on insects. Most colleges allow students to concentrate on a specific type of insect if they desire. Are you a future Apiarist (beekeeper)? Cornell University, Michigan State, Texas A&M University, & University of Florida (among others) offer bachelor's degree programs in Entomology.
Outdoor Adventure Leadership
Does nature beckon to you every moment of every day? Do you crave adventure and want to help others find joy in it too? Outdoor adventure majors develop outdoor educational leaders who wish to help others appreciate, respect, and enjoy the natural environment. Types of courses include Topics in Rescue, Outdoor Adventure Skills, and Recreational Land Use Ethics. Find majors like this at Elon University and Ohio University.
Themed Entertainment Design
A themed experience considers the interaction a guest has with the environment (physical or virtual). All aspects of the experience are designed to convey a narrative which can educate, entertain, or inspire. This field combines storytelling, design, and guest management. Consider the visitor experience at places like Walt Disney World and Universal Studios. Each ride, restaurant, and hotel have a feel to them. Themed Entertainment Design is growing in popularity among creatives. Bachelor's or master's degree programs reside at schools such as California Institute of the Arts, Savannah College of Art & Design, and University of Central Florida (to name a few).