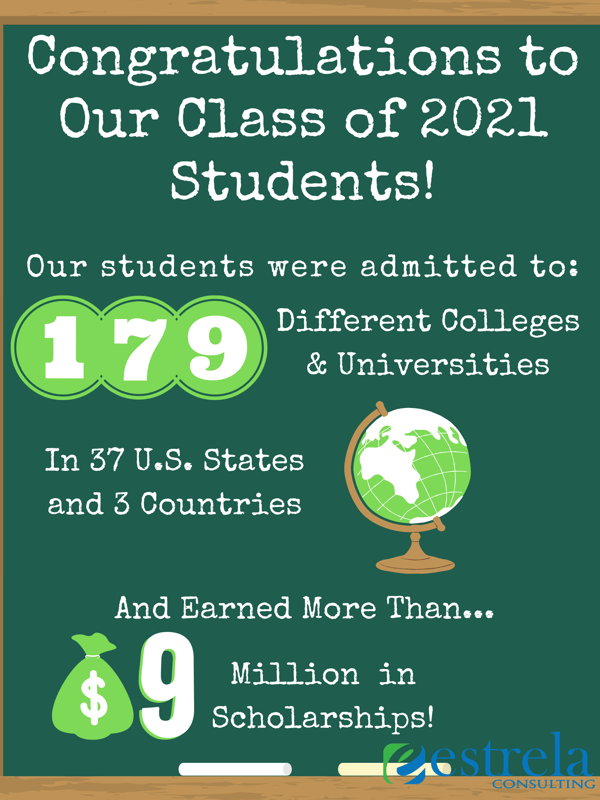 While there's no doubt that students in the Class of 2021 have experienced a tremendous number of challenges, uncertainty, and just an overall crazy application cycle, we have been inspired by their dedication and grit in this process (and that of their parents!).
We are incredibly proud of our Estrela students and are thankful to have played a role in their college search processes. Our students this year have received offers of admission to 179 different colleges and universities in 37 U.S. states and 3 countries. Talk about finding FIT! Even more impressive is the fact that this group of students has been awarded more than $9 MILLION in scholarships...and that number continues to grow!
On behalf of the entire Estrela College Planning Team, CONGRATULATIONS to the Class of 2021! We look forward to following your college journeys and hearing about what the future holds for you. Now, on to the list!
Estrela Class of 2021 College Acceptances
Allegheny College
American University
Appalachian State University
Arizona State University
Ashland University
Baldwin Wallace University
Ball State University
Belmont University
Bentley University
Boston College
Boston University
Bowling Green State University
Brandeis University
Bridgewater State University
Bryant University
Bryn Mawr College
Butler University
Case Western Reserve University
Central Connecticut State University
Clark University
Clemson University
Colby College
Colgate University
College of the Holy Cross
College of Wooster
Columbia College Chicago
Connecticut College
Cornell College
Cornell University
Dartmouth College
Denison University
DePauw University
Dickinson College
Drexel University
Duke University
Duquesne University
Earlham College
Eastern Connecticut State University
Eastern Michigan University
Eckerd College
Elon University
Emerson College
Emory University
Endicott College
Erasmus University College (Netherlands)
Fairfield University
Flagler College
Florida Atlantic University
Florida Gulf Coast University
Florida Institute of Technology
Florida State University
Fordham University
Georgetown University
George Washington University
Georgia Institute of Technology
Grand Valley State University
Hamilton College
Hendrix College
High Point University
Hope College
Illinois Institute of Technology
Indiana University Bloomington
Jacksonville University
John Carroll University
Keene State College
Kent State University
Kenyon College
Lafayette College
Lake Forest College
Lehigh University
Loyola University Chicago
Loyola University Maryland
Lynn University
Marist College
Merrimack College
Miami University
Michigan State University
Millikin University
Muhlenberg College
New York University
North Carolina State University
Northeastern University
Northwestern University
Nova Southeastern University
Oberlin College
The Ohio State University
Ohio University
Ohio Wesleyan University
Otterbein University
Pace University
Palm Beach Atlantic University
Pennsylvania State University
Pepperdine University
Point Park University
Providence College
Purdue University
Quinnipiac University
Rice University
Rochester Institute of Technology
Roger Williams University
Rutgers University
Ryerson University (Canada)
Sacred Heart University
Saint Anselm College
Saint Leo University
Salve Regina University
San Diego State University
School of the Art Institute of Chicago
Seattle Pacific University
Seton Hall University
Skidmore College
Stevens Institute of Technology
Syracuse University
Texas A&M University
Texas Christian University
Tiffin University
Trinity College
Tulane University
United States Military Academy - West Point
United States Naval Academy
University College Groningen (Netherlands)
University College Utrecht (Netherlands)
University of Akron
University of Alabama
University of Alabama at Birmingham
University of Arizona
University of California Berkeley
University of California Irvine
University of California Los Angeles
University of California Santa Barbara
University of California Santa Cruz
University of Central Florida
University of Cincinnati
University of Colorado Boulder
University of Connecticut
University of Connecticut - Avery Point
University of Dayton
University of Delaware
University of Florida
University of Georgia
University of Hartford
University of Kentucky
University of Maine
University of Maryland
University of Massachusetts - Amherst
University of Massachusetts - Dartmouth
University of Michigan
University of Michigan - Dearborn
University of Minnesota
University of Notre Dame
University of North Carolina - Wilmington
University of Pennsylvania
University of Pittsburgh
University of Rhode Island
University of Scranton
University of South Carolina
University of South Florida
University of Southern Maine
University of Tampa
University of Tennessee
University of Vermont
University of Virginia
University of Washington
University of Wisconsin - Madison
Vassar College
Virginia Polytechnic University
Washington & Jefferson College
Washington University in St. Louis
Wesleyan University
Western Carolina University
Western Connecticut State University
Western Michigan University
Western New England University
West Virginia University
Wittenberg University
Worcester Polytechnic Institute
Xavier University
Yale University
Youngstown State University
(Click here for a full list of past Estrela acceptances.)