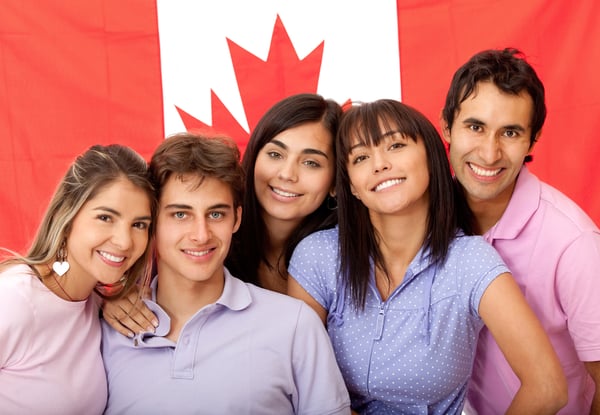 Canada is well-known for hockey, breath-taking landscapes, and a reputation for politeness. It is also becoming an increasingly popular destination for American students seeking a college education. With thousands of options available in the US, why are students looking to our friendly northern neighbor for higher education?
Canadian Universities Rank Among the Best in the World
Canadian universities shine in the many global ranking systems available, such as U.S. News and World Report, QS World Rankings and Times Higher Education. The University of Toronto, McGill University and the University of British Columbia are consistently ranked within the 50 best universities in the world. The University of Toronto and the University of British Columbia score particularly high for research impact. Overall, Canadian universities are best known internationally for programs in the areas of Computer Science, Economics, Business and Engineering.
The Admissions Process is Simple and Transparent
If you are dreading writing dozens of essays for college applications, you may find the Canadian college application process preferable to the more complicated system in the US. Essays are rarely required, except for specific programs. For the majority of Canadian universities, the application process is quick and simple. For international students from the US, admissions decisions to Canadian universities are based on high school grades. As high school in most Canadian provinces begins in 10th grade, typically only marks from sophomore, junior and senior year are considered. SAT or ACT scores are required, and most of the elite universities require that students submit scores from two SAT subject exams as well. Once the university's online application has been completed and high school grades and test scores are submitted, the application process is complete. If an acceptance letter is received, a student can begin the process to apply for a study permit.
International Students in Canada are Happy
The Canadian Bureau for International Education International Student Survey found that 90% of students reported feeling satisfied with their decision to study in Canada, and that 96% of students would recommend Canada as a study destination. The CBIE lists Canada's tolerant and non-discriminatory society and its reputation as a safe country as top reasons students are choosing to call the Great White North home. Compared to other global options, Canada provides an immersive international experience for Americans without the language barrier (except in Quebec). Many of Canada's universities are renowned for promoting a global outlook by recruiting international students and faculty and encouraging international collaboration through the exchange of people and ideas, which provides Canadian universities with a cosmopolitan atmosphere.
You May Be Eligible for Funding
One of the benefits highlighted when comparing the US and Canadian education systems is that the tuition at Canadian universities is significantly less than at US institutions. Unfortunately, this only applies to Canadian citizens. For example, at the University of Toronto, tuition for a domestic student pursuing a degree in the College of Arts and Sciences will only pay $3,938 USD in tuition each year. For one of the best universities in the world, this is quite the steal. Unfortunately, as this low tuition is made possible by taxes, an international student pursuing the same degree would owe $41,018 USD in tuition each year. This is a significant difference, but there may be options available to help pay for tuition abroad. Many American students are unaware that while US federal grants, such as the Pell Grant, are limited to US institutions, students can borrow money through federal students loans to be used at international institutions. Students can borrow up to $20,500 each year, based on their financial situation. Federal Direct PLUS Loans, taken out by the parents of the student, can also be used at approved Canadian institutions. Additionally, many private scholarships can be used at Canadian institutions. The Canadian Bureau for International Education is a great resource to start the scholarship search.
Considering the quality of Canadian universities and degree programs, the ease of the admissions process, and the overall happiness of international students pursuing higher education, students from the US should certainly consider Canadian institutions as an option in their college search.