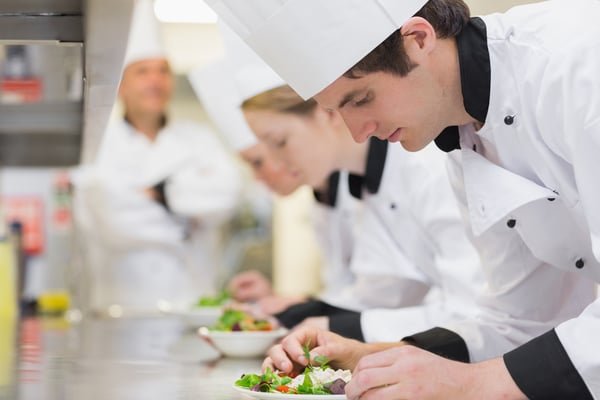 You've decided to turn your passion for food into a career. Looking into the future you can see yourself one day named as one of Food and Wine Magazine's Best New Chefs Class of 2024, a James Beard Chef, or maybe even one day a Michelin Star Chef. Perhaps you'll own a restaurant or invent a French fry that is healthy and tastes great.
The question facing you is where will you get your training? Should you follow in the footsteps of a Food Network star chef, go to the same school as your high school culinary teacher or maybe train with your favorite local chef? How do you make the right choices for your future career?
To be competitive in the most sought after restaurants and businesses, students need a combination of internship and practical experience combined with a culinary degree. A degree can also give you the knowledge to run your own restaurant, to specialize in areas such as farm-to-table, baking and pastry, brewing, and nutrition science among other choices.
There are a variety of options for education; community colleges, culinary schools and universities with strong culinary programs. Below is a snapshot of the differences between the various types of schools.
Culinary School
Culinary Schools are focused on culinary arts and teaching you what it takes to be a chef. Program completion time depends on the course of study. This route is ideal for the student who knows their area of focus, is willing to be in school year round if necessary and wants to complete a course of study quickly. Students attending a culinary school understand that there is no opportunity to play sports and are not looking for a program that contains a lot of non-culinary extracurricular activities outside of the classroom. These programs can be expensive but many of them are well known in the industry and have a vast network of alumni connections. The Culinary Institute of America, the Institute of Culinary Education, the International Culinary Center of New York, and the Auguste Escoffier School of Culinary Arts are just a few of the well-known culinary schools.
Community College
Community College programs are an excellent value and typically offer certificate and associate degree programs. In addition, students are required to take general education courses. Some schools have restaurants on campus in which culinary arts students hone their skills. Community Colleges generally do not to have the number of networking alumni connections as culinary schools and four year colleges. Check the community colleges in your state for culinary arts programs.
Four Year Schools
A college or university is an excellent choice if you want a college experience complete with extracurricular programs such as athletics, clubs, activities and other major options if you change your mind about the culinary field. At a four year school you will have the option of pursuing an associates, bachelor's, or in some cases, a master's degree. In addition, you are typically required to take courses in business, marketing, and management which can help you if you plan to own or run a restaurant. You also have the opportunity to explore other culinary related fields such as culinary nutrition, science and product development, hospitality, and food and beverage management.
Johnson & Wales University, Kendall College of Culinary Arts at National Louis University, Paul Smith's College, and the State University of New York at Delhi are some options to consider.
Several years ago, I attended an Admissions Information Session for Johnson & Wales University. The session was filled with students considering a career in the culinary field. A student asked the alumni speaker what was the best advice he had received when he was a senior in high school. His response resonated with me and it's something I tell all students. He said to maximize your environment. No matter what school you choose to attend, take advantage of everything it has to offer. Internships, study abroad, mentorships, clubs and culinary competitions are just some of the opportunities you may be offered. Get to know your professors, soak up their words of wisdom, advice and experience.
Taking advantage of every opportunity can lead to places and experiences that will not only help you in your career path, but also shape your future. Take chances, dare to dream and enjoy the experience.