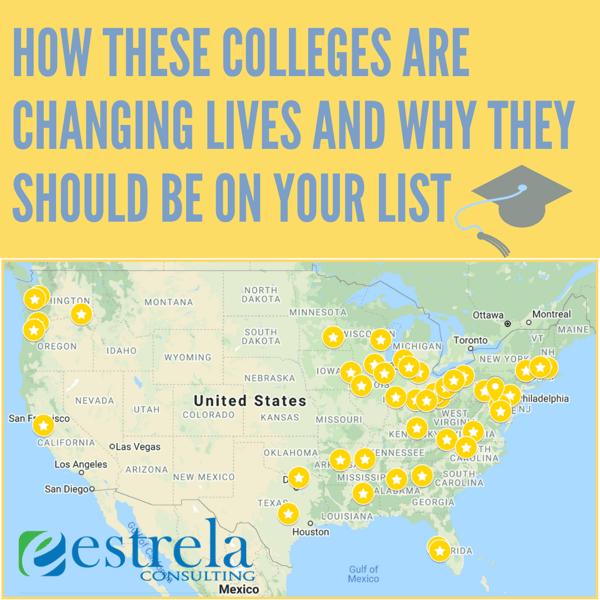 We all know that the few short years in college are supposed to be some of the most impactful years of our lives, so it would make the most sense to enroll in only the "best" college that you can. After all, isn't that why we scramble to determine the nation's top colleges, review multiple sets of rankings to figure out which school is best, reach out to admissions offices to demonstrate our strong interest and desire to enroll at that institution, and work our way through the testing pipeline to make sure we put our best foot forward?
And then, if that dream school - be it Ivy League or large research institution that is just a very big academic reach - doesn't work out, then what? Will you be forfeiting your chance to have that life-changing experience?
ABSOLUTELY NOT.
The Colleges That Change Lives movement, now a national non-profit organization, set out to debunk this specific myth - that only the colleges that exclusively enrolled solely the best and brightest had the biggest impact on students. In fact, you can have a life-changing experience at any college you attend (it's often about HOW not WHERE you go), but there are some absolute standouts across the country that maintain a Colleges That Change Lives badge of honor.
Colleges That Change Lives, Inc. (CTCL) is a non-profit organization dedicated to the advancement and support of a student-centered college search process. We support the goal of every student finding a college that develops a lifelong love of learning and provides the foundation for a successful and fulfilling life beyond college.
As the mission states above, CTCL schools place an emphasis more than most other colleges on the growth, development, and long-term success of the student, no matter their academic starting point. Often this looks like…
These characteristics and examples are hardly comprehensive - every one of the 40+ colleges on the list could be represented above. This also doesn't take into account the many jaw-dropping stats about how many students go on to become Fulbright or Rhodes Scholars, or those who exceed national averages on grad school placement, or the high rates of students who report satisfaction with their job placement as a result of their undergrad experience according to the national Gallup-Purdue Index.
And as you can see above, these colleges are all over the country! At Estrela, given how much we think it's important to find a good fit school for every individual, it's no wonder we love CTCL schools. (We have students apply to and attend a CTCL college almost annually - with students most recently attending Allegheny College, Earlham College, & Ohio Wesleyan University, just for starters!) If you're feeling in a rut with your college search or are looking for a few schools to branch out on your application list, check out the list of CTCL schools for more information!