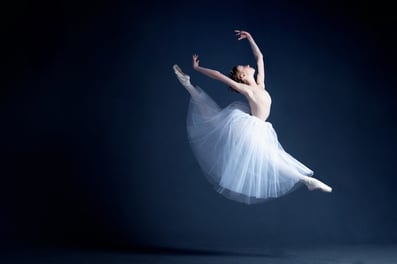 You've spent years practicing the cello, perfecting your pirouette, or memorizing dramatic monologues. Now it's time to take your art form to the next level and pursue a college education in the performing or visual arts. But as you start to research arts programs on your college list, you notice a dizzying array of letters. BA? BS? BFA? BM?
These letters represent college degrees with differing balances of coursework, and understanding them is a critical part of determining the arts program that is the best fit for you.
Let's start by establishing that there is no right or wrong answer to picking the degree that will best suit you. And you can ask a dozen performing artists their preference on the matter, and you'll get at least a dozen different opinions. The important thing is to carefully assess your educational goals and then research the programs that will match those goals.
So let's dig a little deeper into the alphabet of performing and visual arts degrees…
What are BA and BS?
Both the Bachelor of Arts (BA) and Bachelor of Science (BS) degrees consist of coursework that has the broadest range of subjects. While you will still take classes in your major (usually 10-12 courses), you will also complete coursework in a broad liberal arts curriculum. The curriculum is generally more flexible, allowing you the opportunity to study subjects in other areas of interest outside of your major. You may also have the opportunity to double major. You can find BA/BS programs in the arts at both large universities and small colleges.
The upside to the BA/BS? You'll have the opportunity to explore more subjects during your college career, and possibly discover new interests that you didn't even know you had. A recent study from BFAMFAPhD revealed that only 16% of working artists had a degree in their chosen art form, and the rest had a variety of college backgrounds. Some would argue that the experience of learning about other subjects enhances an artist's perspective.
The downside to the BA/BS? There will be less intensive coursework and training in the arts. This may not be the right option for the student that is looking for the most rigorous training available.
What are BFA and BM?
The Bachelor of Fine Arts (Theater, Musical Theater, Dance, Art) and Bachelor of Music provide a much more intensive, structured program for your chosen art form. They are "professional degrees" that require the majority of classes to be taken in the major, with less room for electives than the BA/BS.
Conservatories almost exclusively award these degrees, as well as colleges and universities that use a more conservatory-like approach in these majors. The curriculum requirements are fairly rigid, and the opportunity to double major or even minor may be limited.
The upside to the BFA/BM? You will get the most rigorous training in your art form and will spend your college years almost exclusively studying the major that you love. The downside to the BFA/BM? Other than core required coursework, you will have little opportunity to study other subjects of interest.
Which degree is right for you?
As you consider your options, it's important to assess your educational and career goals. Then take the time to research the curriculums at the colleges you are considering. Most programs will offer a sample course schedule online, and this will give you an idea about the intensity of the program. If possible, plan a visit to the school so that you can see firsthand the facilities where arts classes and rehearsals take place. Talk to current students to get a glimpse into what their daily life looks like. And if you've decided to apply to a BFA/BM program, you will most likely be required to attend an audition where you will have the opportunity to learn even more. Some BA/BS degrees will require this as well.
All of these degrees can lead to a successful career in the performing or visual arts! The key is to find the program that is the best fit for you, and make the most of the opportunities you have during your college career. Break a leg!
---
Interested in learning more about our college planning services and how we can help your family? Request your free college planning consultation today: